"Star of Tomorrow" Conor Cummins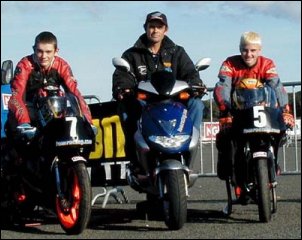 After another fantastic weekend at Darley Moor "Stars of Tomorrow" 15 year old Conor Cummins becomes the first Manx rider ever to be offered a place on the ACU Road Race Academy for 2002 after some impressive rides throughout the season. Iomracing Team boss Chris Grose was delighted with the offer from Academy manager Dave Luscombe. "This is exactly what we set out to achieve this weekend, Conor always lives up to our expectations. This is a fantastic opportunity for him.

For next season we intend to run Conor in the 125 MRO or Supercup and also feed him into the 600 Junior Superstock when he is 16. We must give a commitment to the ACU to attend ALL seminars, test days etc for 2002, they are not optional. This will mean a huge amount of travel and the inevitable costs that go with them but this offer is not going to be turned down"

The ACU Race Academy was only formed this year. They offer complete training packages to young riders including fitness training, track instruction and handling the media. They have worked closely with the Spanish Motorola youth Team recently at the British GP and have the ultimate aim of producing a British World Champion. 14 year old Chaz Davis is probably the best known Academy rider recently becoming the youngest ever winner of a British Championship 125 race. He will most certainly not be the last with a host of young riders aged from 12 to 16 just waiting to dominate the British scene next year. Now we will have a Manx representative in the form of Conor Cummins, hopefully Conor will only be the first of many Manx riders to be offered this chance.

Iomracing's second rider Steven Grose could be the next. " Steven is only 14 years old and having received intensive training this year on the 125 we hope to get him out in his first race later this year. He is doing brilliantly, these kids learn so fast it is breathtaking, they are totally fearless. Steven had never ridden a motorbike until a couple of months ago and he is improving by about a second a lap. The 125 Honda is probably the most difficult bike in the world to ride but the ACU rules insist that this is what they have to learn on so he is really in at the deep end".