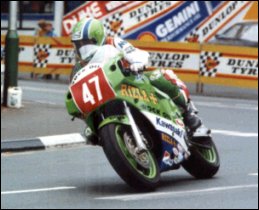 There was a recent posting on the TT Website.com Message Board regarding John Reynolds, who is one of the best short circuit riders to come out of Britain over the last 15 years. But what a lot of people didn't know was that John Reynolds had ridden at the TT; and here's the proof!

This photo was taken of him in practice on his Production 750, complete with his orange jacket. The year is 1989, and he rode well finishing 9th in the Supersport 400, 18th in the Production 750 and 24th in the Formula 1.

However he obviously didn't enjoy it, as he never came back! What we TT fans would give to see him lining up on Glenclutchery Road on the works Red Bull Ducati in 2002?