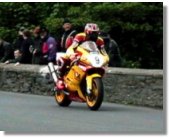 A leading team aims to head to the TT next year despite the date clash with the British Superbike Championship. V&M Racing is looking to attend both events - even though the Formula 1 TT will be held the day before the Superbike round at Snetterton on Mad Sunday, June 2.

Team boss Jack Valentine described the situation as a 'logistical nightmare'. It will mean a hectic weekend for V&M's star rider, six-times TT winner David Jefferies, who the team hopes will contest the BSB championship. It is likely he would compete in the Formula 1, then go to Snetterton for the Superbike event, before returning to the Island for the Production TT on the following day.

Jack fears Superbike organisers will not change the provisional date of their event, even though Ted Bartlett, chairman of the Auto-Cycle Union, is due to contact them to see if an agreement can be reached as soon as he returns from the International Six Days Enduro in France. Jack said: 'I can't see them (the organisers) changing it,' but added: 'I hope they do change it.' He said the riders the clash is likely to affect will be reigning British Superstock champion Jefferies as well as John McGuinness, Michael Rutter and Jim Moodie - if they chose to take part in the TT. There was due to be a date clash this year between the two events which was avoided following talks, only for the TT to be cancelled as a precaution against foot-and-mouth disease.

Tourism and Leisure Minister David Cretney was 'stunned' to discover the provisional dates for 2002 clashed and said: 'I am disappointed they (the organisers) don't appear to have taken on board the discussions from last year.' He said he had spoken to Jack Valentine at the Ulster Grand Prix about the clash and said it was good news that V&M planned to return to the TT and that the team wanted to see the Superbike date changed. The BSB, which receives TV coverage on British Eurosport and BBC Grandstand, is regarded as a prestigious series and rule changes for next season aim to make it even more competitive.

Two Island-based riders have proven to be among its biggest stars. World Superbike hero Neil Hodgson, who lives in Douglas, won the 2000 BSB championship, while Onchan-based Steve Hislop, an 11-times TT winner, won the 1995 season and currently leads this year's series by 20 points over nearest rival John Reynolds.

V&M Racing, which would aim to bring a two-man team to the TT, was hugely disappointed when this year's event was cancelled and hailed it as a 'bitter blow'.