Iomracing Team at the NG Club Championships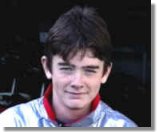 Iomracing Team mates Conor Cummins and Steven Grose both competed in the hotly contested NG Club Championships at Pembrey in South Wales over the weekend. With a field of top quality riders and full grids of 37 riders this was their most challenging race to date.

14 year old Steven Grose in only his second ever race was in at the deep end but had good steady rides to gain valuable licence signatures and a best finish of 5th in the Junior 125 class on his RS 125 Honda. Steven has developed a very neat and tidy riding style in his short career and is gaining confidence with every race. 15 year old Conor Cummins was impressive to say the least.

On Saturday he had good solid rides with two 2nd places in the Junior class of the 125 open, 5th and 6th overall. On Sunday he began with another 2nd in the Junior, 3rd overall and then put in the most impressive ride of his career with a start to finish win not only the Junior class but taking the overall victory in the 125 open on treaded tyres, NG Club rules did not allow Juniors to use slicks in this class. The club lap record had already been broken in every 125 race of the weekend on slick tyres and Conor was to add his name to the list dipping under the old lap record by .4 sec on treads.

Conor stirred up a hornets nest in Sunday's Formula 400 class. Starting from 28th on the grid he was up to 8th coming out of the second corner and 3rd at the finish. Having already competed in two races in this class on Saturday the club suddenly decided that the 125 was not eligible for the Formula 400 class and Conor was out, but very satisfied.

This season Conor has developed into one of the Isle of Man's top riders and has an uncanny ability to learn the track within 3 or 4 practice laps. Having never seen a circuit before he will get straight on the pace after only one practice session. Very few riders have this ability and it is one that will pay big dividends as his career develops.