The early days of a Sidecar TT winning Team!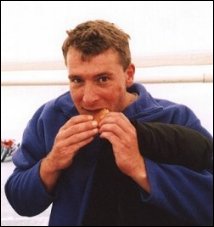 It really all started because the cat wants to move his girlfriend into the garden shed. Who am I to stand in the way of young love? But where am I going to put all the gardening kit? I could put it all in the garage, but that old sidecar outfit is cluttering up the place. What the heck can I do with that?..

Kevin Iddon and Mark Fitzgerald ! Call their bluff!

So I rang Kevin "If I gave you the outfit, would you race it?" " 'E By God, yes" he replied (slowly, of course)

And that is why, 10 minutes ago, I waved goodbye to a van full of Baker TZ350 Formula 2 outfit, on its way to meet Mike Cain at the Manx boat! Mike has kindly agreed to look at the motor in the car park of the pub at Heysham, and check for Kev. Thanks Mike. Kevin has been training at the gym, and cycling, as he prepares himself for the racing season to come. I hope he prepares the brakes better on the outfit than on the pushbike, and I would advise against talking on the mobile while passengering, Kev.

The boys will race the outfit in the TZ350 series next year, and possibly some other Scottish, Manx and English meetings too, carrying ttwebsite stickers to show that, but for the site, they would never have met, far less had an outfit to race. The Baker is a good beginners outfit, and this first year will let them see if sidecar racing is for them, and learn the basics without stretching themselves beyond their experience. They fully intend to eventually do the Southern 100 and the TT, but that will have to wait for a newer faster rig, and a lot more sponsorship.




This one makes me fell like I want
ma bike back.

Willie Stuart and Helen Gibson with the
outfit in all it's past glory.


Over the winter, they will completely rebuild the outfit (stripped in 2hours here yesterday!) replacing all bearings, bolts and fasteners. The fairings need lots of TLC, and a fresh paintjob. The engine will be checked out, and ideally, a couple more TZ350s of suitable standard will be bought and prepared.

They need a van.....nice if it could be painted to match, but that may be a luxury. Leathers, helmets and all the other gear needs to be acquired, too, and then it is just licences, and the nerve to go and do it. (Oh and unlimited amounts of money....all sponsorship welcomed) Kevin and Mark have undertaken to keep a diary of all this, and to share it with us so that those of you who are thinking about starting racing can follow the efforts of someone else doing it, and be encouraged to get out there and race!

Watch this space

The Witch
Team manager BMOT.com

Set of autographs to the person who guesses what that stands for!

Post your guesses here .....