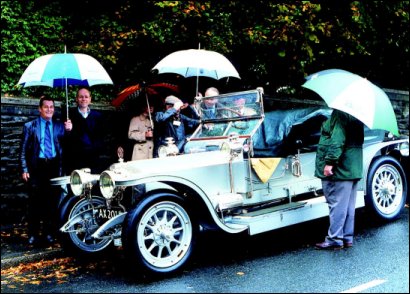 The atrocious weather couldn't dampen the spirits at the Rolls-Royce rally around the TT course and in the end proved to be quite appropriate for those taking part. The downpour meant umbrellas were the order of the day as Lieutenant Governor Air Marshal Ian Macfadyen flagged off the early starters before taking a seat in one of the cars for the event, which marked 95 years since Charles Rolls' victory in the 1906 TT for cars.

Around 40 Rolls owners came to the Island from the UK to take part and were joined by 10 local Rolls enthusiasts. Perhaps the two most prestigious cars on show were a 1905 Rolls similar to the one Charles Rolls drove to victory and a Silver Ghost owned by Rolls Royce and insured for a cool £15 million.

Bob Riding, treasurer of the Island branch of the Rolls-Royce Enthusiasts' Club, said: 'The weather was absolutely filthy and with the thick fog it couldn't have been worse! 'Living in the north of the Island, I go over the mountain quite regularly and at the time of the rally it was some of the worst weather up there I'd ever seen. 'The problem for the Silver Ghost was that it does not have any headlights and I was in my 1926 Aondaulette following it, because I do have electric lights, to sort of shadow it from behind. 'However, when the race was run in 1906 and Charles Rolls won, it was a similarly wet day then so there was a certain appropriateness about it really. 'Everyone got back safely and there were no mishaps.' After the rally, the cars congregated at the Isle of Man College where catering students put on lunch for the participants. 'The college put on a superb lunch and it was a great credit to the students,' said Mr Riding.

The next rally is scheduled for 2006 which will mark a century since the famous Rolls TT win. Mr Riding explained: 'It will be the 100th anniversary and David Cretney (Tourism and Leisure Minister) has said the government, through his department, will look to get involved as it is a unique occasion and they would like to help lay on an even bigger and better event.' The rally was led off by the 1905 model similar to Charles Rolls' winning car. It's owned by Berkshire man John Kennedy, who revealed the car had been found after World War Two and rebuilt in the 1950s to the dimensions of Charles Rolls' car.