Record Entries For A.R.A Endurance Race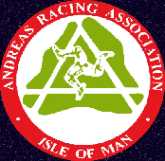 There's a record entry of 35 pairs for the Andreas Racing Association's two-man endurance race at Jurby Airfield.

The two hour event, which brings the curtain down on the most troubled year in local road racing history, looks like being a cracker. Marginal favourites are Paul Dedman and Chris Heath - who have won no fewer than four Centre championships between them (two motocross and two road racing).

They team up on Mark Mann s ultra-quick R71 Yamaha which former 'crosser Paul rode with such gusto at Mondello Park recently. It is Heath's first outing of the season, but it won't take the Snap-on Tools man long to get into the swing of things on a circuit he more than mastered during his two year rein as Island number one in 1999/2000.

Nibbling at their heals will be Juan Kinnish and Tom Clucas on the latter man's ex-Michael Rutter 600 Honda. If Juan takes the initial stint at the controls, don t be surprised to see him still leading at the first changeover (against either one of Dedman or Heath), but overall it should balance up in the Yamaha pair's favour - unless they are forced to make an extra stop for gas! There are several visiting riders taking part, notably former Lightweight MGP winner Russell Henley with James Jackson on a 750 Ducati, plus TT regular Derek Lloyd with Neil Gilbert aboard a Honda SP1 - the first to be raced at Jurby?

In addition Andreas club chairman Phil Kneen is again teaming up with Pembrokeshire bike dealer Gary Pendleton, but don't be surprised if Phil's younger brother Norman is thereabouts with the up and coming Neil Muirhead on the latter man s new R6 Yamaha. The endurance race is due to start around 1.30pm, depending on the availability of marshals and how long it takes to run two practice sessions each for the solos and sidecars. Practising is due to commence at 11am, with the first of two consecutive sidecar races at 12.30.

The opening race of the two will count as the final round of the 2001 Centre championship for the chair boys and girls, and will include former champion Dave Molyneux in his first outing with yet another new passenger - Chris Wedgwood - who only made his debut at Jurby last month with Nigel Smith.


LIST OF ENTRIES

Solo endurance race
1, Phil Kneen & Gary Pendleton (1000 Yamaha R1); 2, Paul Dedman & Chris Heath (1000 Yamaha); 3, Carolyn & Dave Sells (400 Honda); 4, Rob Sells & Paul Corrin (600 Honda); 5, James Jackson & Russell Henley (748 Ducati); 6, Keith Mckay & Neil Ronketti (748 Suzuki); 7, Rob Colvin & Tony Conway (599 Honda); 8, Kevin Murphy & Scott Shimmin (400 Kawasaki); 9, Mike Noble & John Harrison (399 Honda); 10, Neil Gilbert & Derek Lloyd (1000 Honda SP1); 11, Tom Clucas & Juan Kennish (599 Honda); 12, Dave Madsen-Mygdal & A. Bayley (599 Honda); 14, Graham Taubman & Graham Burden (399 Honda); 15, John Crellin & Derren Slous (400 Honda); 16, Darren Murphy & Chris Salmons (399 Honda); 17, Brian Appleton & Ian Rycroft (600 Honda); 18, Dave Corlett & Desmond O Connell (399 Honda); 19, Neil Muirhead & Norman Kneen (600 Yamaha); 20, Micky Grose & Neil Wood (400 Honda); 21, John Millhouse & Ged Smith (600 Honda); 22, Paul Duckett & Tim Devlin (599 Honda); 23, John McBride & Simon Skillan (918 Honda); 24, Steve Grainger & Andrew Grimshaw (600 Honda); 25, Nic Bradburn & Jim Hunter (600 Honda); 26, Neil Chadwick & Simon Stackey (600 Honda); 27, Ian Murphy & Kevin Whiteway (599 Honda); 28, Wayne Cook & Gary Compstey (600 Honda); 29, Peter Corfield & Gary Cameron (400 Honda); 30, Peter Tyer & Trevor Stokes (750 Honda); 31, Andy Gibson & Simon Oliver (996 Suzuki TLR); 32, Chris Heyes & Ian Moffit (400 Honda); 33, Ian Lamberton & Chris Dowling (1000 Honda); 34, Steve Callow & TBA (599 Suzuki); 35, Monica Floding & Richard Murphy (400 Honda); 36, Roscoe Travis & R. Shephard (750 Yamaha).



Events two & four 1300 sidecar
1, Neil & Brian Kelly (600 Honda); 2, William Quayle & Gareth Lacey (600 Honda); 3, Alan Langton & Jamie Scarffe (600 Yamaha); 4, Nick Crowe & Darren Hope (600 Ireson); 5, Dennis Proudman (350 Yamaha); 7, Nigel Smith & Roy Hutchinson (600 Ireson Yamaha); 11, Brian Rostron & Greg Mahon (600 Baker Yamaha); 14, Dave Molyneux & Chris Wedgwood (600 DMR Honda); 15, Bryan & Julie Downey (600 Kawasaki); 16, Peter & Diane Skinner (600 Kawasaki); 20, Chris Lawrance & TBA (600 DMR Yamaha).