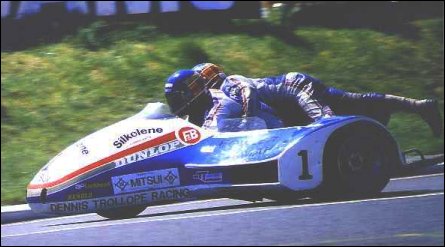 By tradition this meeting incorporates the Jock Taylor memorial sidecar trophy race and there's a top class line up in store for all you sidecar fans. Jock Skene and Neil Miller will be out, as far as I know, for the first time this season. As most of you know Jock and Neil were the Eurocup sidecar champions last year and it will be interesting to see how they get on. My opinion for what it's worth, Jock and Neil were/are world class and should be competing in the world scene, I think they would be a revelation.

Regular World Series runners Stuart Muldoon and Trevor Crone will be pitting themselves against the local outfits, but they could well start favourites and newly crowned Scottish champions, for the second year running, Andy Laidlow and Darren Dodgson is another team that should be up front, especially if they get a good grid position. Talking of grid positions-the organisers have come up with a superpole type situation for the Taylor race. Although it will run on a slightly different format, it should give the punters that something extra. Knockhill Race Circuit has put up a healthy prize fund for the first three on the grid, £250 going to the pole sitter, £150 for second and £100 for third. The race itself has a £2000 prize fund and I think one or two teams that gave this one a miss could well be kicking themselves?

So what else is on show. Well, the Scottish 600 and the Regal 600 championships are still up for grabs and it's been mainly four riders who have been dicing all season long for both crowns. Les Shand Roger Bennett, Craig McClelland and Torquil Paterson are the riders in question and it could well be one of this quartet that will go home the victor. However, Shand is the man in the driving seat for both crowns with McClelland pressing hard.

The Regal production series is still to be settled. Donald Macfadyen, Sandy Christie, Bob Grant, Mark Wright and Mark Buckley-all on Suzuki's--will all be out for the victory. Who will win the series-- defending champion Mark Wright has the upper hand, but Christie's been almost unbeatable since joining the series mid season. The Aprillia and 250 championships are also up for grabs and it's William Monie who's got the cushion over the pack and although the last couple of rounds have been indifferent for Monie he should do the business. Bruce Birnie, Jason Mitchell, Mike Skinner and Ronnie Lindsay will all be out to spoil Monie's party.

The popular 400 series was wrapped up at the last round and for the second year running Wee Bob Grant took the honours. Stewart Sturrock is comfortable in second spot but Brian Neilson and Lewis Farrow will be battling it out for the number three plate. Anthony Czyzewski came back from an early season broken leg and heads the 125 series. Lisa Ross and Ronnie Lindsay are in the hunt for second and could even win it. Vic Allan has had a win and a second in his last two outings and on that form could take points away from the leaders. The classic boys will also be out in force with a batch of bikes from singles, twins and triples thundering there way round the track.

Finally, thanks to my old mate Alan Munro, he came up with some great shots of Jock at the IOM back in 1982.

Harvey T.