Donington, a Scottish View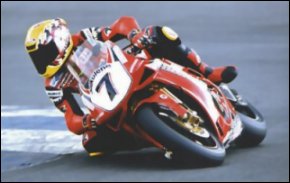 The last BSB meeting of the year is usually special, very special. Last year for example, us Scots had a lot to shout about and when you think about it, we were up there so to speak and have been for most years. I mean, Jim Moodie's 600 championship was more than special after the Honda thing. Niall Mackenzie was winding down or should that be winding up, as he's been busier that ever. Callum Ramsay's consistency brought him the 250 crown and the emerging Ross McCulloch took the Aprillia challenge series. One or two people thought hizzy wasn't the rider he used to be, how wrong can they be and John Crawford, learning the superbike craft, was playing second fiddle to Chris Walker.

The Rockingham incident threw everything up in the air for us Scots, and I'm sure many others. I personally was gutted (not as much as Hizzy I bet) as Hizzy was our only chance of success and being honest I can't remember a year that a Scot never lifted a British championship. Because of this, the trip to Donington had no real significance, although I was going to get some photos for Knockhill Circuit and possibly pick up some gossip for Bikesport News. The mist and fog got a little thicker the nearer I got to the circuit and it was no surprise there was no Saturday morning action. As usual, I had a wander round the paddock to find out who was camped where and say hello to most of the Scots guys who made the trip.

Straight away I had this…I should have stayed at home feeling. I can't explain it, but I felt it. Anyway, the main talking point was the previous weeks final round controversy at the Scottish championships. I then went around and had a coffee at Jim Moodie's, he's looking fit and has good movement in his ankle although he had a touch of flu. I'm totally convinced that Jim knows everything that's going on, all the latest gos-you name it, but he still asked me what gossips going round, I think he's testing me to see what I know. To cap it, I heard a lot of gossip about some of the top riders and teams but I didn't want to say anything to Jim in case he knew different, or more to the point, he knew better. Jim's latest project is gaining his helicopter pilots licence, if the guys not racing he's busy doing something. He opened one of the overhead cupboards in his motor home and showed me a pile, and I mean a pile, of books he's been reading on it. Jim doesn't do anything by half and he really is going through some intensive course and the pilot who's training him said he's doing very well. Oh yes, he has got a helicopter, some guy.

The mist cleared and it was on with the revised Saturday qualifying. So how did the Scots get on then? Well you all know about the top guys but there were lots of disappointments for the not so well known. Les Shand, our newly crowned 600 champ got it real bad. He didn't qualify for the Superstock, although to be fair he's not had much time on the bike. In 600 qualifying, things got worse for Les as the big ends went on his Honda---Les was gutted when he came into the pit lane and so was Harvey.

Bob Grant, who's caravan I was staying in…..five of us in there--and the other four, every now and then, snored in unison. I was glad when a plane came into land at the nearby East Midlands airport as it drowned out the noise, but that's another story. Anyway, Bob, sore from a heavy spill, never qualified for the superstocks, nor did Mark Buckley…..I wanted to go home and beside that, I didn't feel too great, but I said nowt.

Ross McCulloch done well for the second row, considering he was on the #2 bike without the close ratio gearbox. The #1 bike engine had some valve trouble and wasn't an option. These R6s are good but the need constant attention me thinks. Lots of club racers go for the R6 but they have to make sure they get the engine attended to on a regular basis, if they think otherwise then their wasting their time.

Steve Allan qualified not bad, as did Ian Duffus along with Chris Millar. Ian Campbell, who's had a bad time of it this year, managed to qualify. Brian Morrison was out there and he done not bad at all. The guys looking fit and finished well in the race, I wonder what people would have said if he finished even higher in the order, I suppose we'll never know. Kevin Brown the only Scots 250 runner, besides Stuart Easton who incidentally looked for a while like he was going to win, was in a panic to get his bike together in time for the Friday evening race, the one put back from the unfortunate Cadwell incident. Kev made the race and although he was running around the back of the field he acquitted himself well. Kev's a stylish rider and considering he's on one of the oldest 250's in the field he done not bad. Now that the 250 GP bikes are disappearing, I would really like to see Kev start again, say in the Aprillia challenge (is it running again next year?) and now that he has the track experience, I think he could do well…. he would certainly be more competitive me thinks. As for what Stuart Easton will be doing next year is anyone's guess, but as soon as I find out I'll let you know.

Saturday night was a scream but that's yet another story. Oh and it was back for some synchronised snoring! Come to think of it……it was like getting four old clocks side by side, every now and then they would all tick in unison. Not that I get four old clocks together, it's just my imagination, honest.

Race day was the same as Saturday…fog…..no morning warm up, so everything had to be revised in order to get things on the TV at the allocated time. I had a word with Ben Atkins about Roger Bennett getting one of his bikes for the Macau GP, Ben thinks Roger could do well…I agreed, he's good round there. I took some Photo's of Ben and one or two of the Red Bull team, just in case Bikesport news decides to run a story on the Macau thing.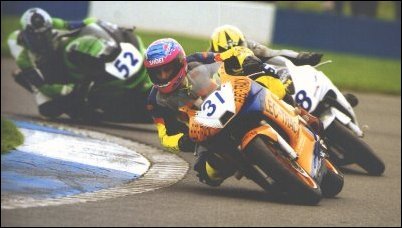 Ross McCulloch



The superbikes were out first, 5 minute warm up then straight into the race, but not before Michael Rutter had a massive get-off at redgate. It was as if the brakes didn't work and he decided to dump the bike, big time. I saw the whole thing as I was at the pit lane exit…. Scary stuff…..Rutter went a long way into the gravel, the bike even more. Thankfully, he got up to a great ovation and walked back to pit lane. No doubt you know the results, but there was an unexplainable atmosphere with Hizzy not being there. Lets not take anything away from JR, I mean, if the hizzy thing happened at one of the earlier rounds, we probably wouldn't have said much….but that's racing and I know JR wouldn't want it to finish the way it did. I felt down for John Crawford, his body language said it all when he came over the line at the finish, he knows he can do much better. I intended to have a word with him, but I thought he would have other things on his mind….not hard to work out what. JC started the season well, but there's something amiss and I'm convinced JC is a much better rider than the results he's been getting. I've watched the Suzuki off and on through the season and it certainly gets itself in knots some times…not the best thing for rider confidence. I like JC and personally speaking I would like to see the guy in World Supersport, I think he could do really well in that class.

I went to the loop for the superstock race, full of expectations and hopes for the Scots guys. While there I like to listen to what the punters are saying, its important to here them even if they can be off the mark some times…on the whole they are very knowledge and it's amazing what information and views you can pick up from listening to them. I genuinely think that some of the BSB big wigs should go into the crowd now and then. I'm positive they would get some good feedback, although they would need to remain anonymous…. Well, they could bump into some big hairy Scots guys shouting "freeeeeedooommmaa".

Three riders came down right in front of me and I didn't take a photo, I just moved back double quick to let the marshals do their job. The Scots day was about to get worse as out went Steve Allan, out went Ian Duffus and out went Ian Campbell. As I said before Brian Morrison done well though and Chris Millar had a decent finish.

My main hope was in the 600 race with Ross McCulloch although I knew he was on the number 2 bike. When the race started Ross was up there and with Matt and John McG going out, it looked as though a good result was on the cards. After a few laps it looked to me as if he was having trouble laying down the power as the back end was moving a little and later it was confirmed his rear tyre went off. Anyway he finished seventh……not bad in the most competitive race class we have. I'm disappointed they have taken away the championship status from the 600s, especially as it's been without doubt the most entertaining for many a year. I think the organisers are hoping that the best riders will filter into the Superbike class if they want to be champion. Mmm, don't know if it will work though.

I went round to the McCulloch camp, and from a distance I could see Jim was giving his opinions, every one listens intently to what Jim says. Not surprising really, you couldn't ask for someone better to steer a 600 team. Since Jim started managing the team, Ross has been consistently running with the big boys and although he's had one or two setbacks, he's been up there.

By this time I wasn't feeling that great, so I decided to watch the second superbike race from the outside of the loop as I was going to make a quick getaway. What surprised me was the amount of people that were already leaving…not large amounts but quite a few….I think the Hizzy factor could have something to do with it and possibly the weather. It then started to rain and I decided to make a dash before the crowds and the fog got worse. North of Newcastle the fog was real bad, it would hit you like a wall and on my way home I was thinking I should have stayed, but when I got into my own bed I said no,ZZZZZZZZZZZZZ.

This was one meeting that never had that special atmosphere, well not for me anyway.

Roll on 2002.

Harvey T