Local road racing sponsor Des Collins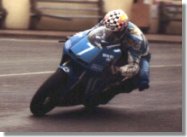 Local road racing sponsor Des Collins has purchased the World Supersport spec 600 Kawasaki ridden to ninth place in this year's British Supersport championship by Australian Kim Ashkenazi. The bike is to be piloted by Manxman Juan Kinnish in the 2002 MRO National series and selected rounds of the British championship. 'We tried for one of the World Supersport factory Kawasakis ridden by Andrew Pitt and Iain Mcpherson, but tuner and team boss Harold Erckl was reluctant to sell any of the bikes outside of Germany.' revealed Des.

The ZX6 was ridden to victory at Knockhill by Ashkenazi in August, but the win was stripped away from the Aussie as the Nick Morgan run bike was found to be slightly under weight. . . . The 600 will shortly be crated up with the Wilson & Collins 750 Kawasakis for the long sea journey to New Zealand, where Kinnish will ride the recently purchased 600 and one of the 750s in three short circuit meetings in late January.

The remaining 750 will be in the hands of Midhurst's Mark Parrett. Kinnish, who received Sports Aid funding this season via a Tarlton Hodgson scholarship, is to purchase a new 600 Kawasaki of his own to run alongside the ex-Kawasaki UK model next season, and will ride Des Collins' 750 in the MRO Powerbikes. 'It's looking great for 2002,' said the glossop based aircraft designer this week. Parrett will ride for Wilson & Collins in the North West 200, Production TT and MGP, while Nigel Beattie is likely to be riding another 600 Kawasaki in the MRO championship, local events and the Manx Grand Prix.