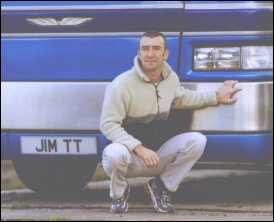 As was first mentioned on the TT message board, Jim Moodie promised to let me/you know his plans were for the year 2002.

I can reveal Jim has sensationally agreed a one-year deal in World Supersport for the Dutch team Saveko who ran Christoph Cogan and Jan Hanson this year, 2001. Rob Frost is the other team rider and the bike's will be Yamaha R6s, a machine Moodie is more than familiar with.

The team is scheduled to test the bikes for the first time on the 3rd January at Cartegena in the south of Spain. The great news for TT and North West fans is, Moodie has his contract sorted that will leave his options open for these events and I know for sure he already has a few very interesting deals and options on the table.……watch this space.

We all know Moodie had a traumatic but nevertheless busy 2001. Jim eats sleeps and breaths motorcycle racing, so this news, in my opinion, is the result of all his hard work, self-belief and total dedication to the sport he loves. Hopefully within the next few days I will be able to bring you a more detailed account of how this all came about and a real insight into Jim's year out of the saddle.

Harvey Thomson.