MGP 2000 - A REVIEW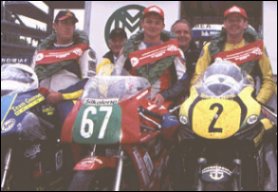 As we all know by now, the Manx Grand Prix is cancelled for 2001, so we thought we would take the opportunity to have a look back at last years action, from what many people believe was one of the best Manx Grand Prix's ever.

Names like Turnbull, Beattie, Kneale, Finnegan, Townsend, Wood, Griffiths, Farquhar, Greene, Skene, English and others were on every one's lips for two weeks or great racing. We start with having a look back at the thrilling Newcomers Race, featuring a host of Irish talent, with one flying Scot determined to spoil the party and a local lad sustaining the Manx pride.



---


RACE 1 - NEWCOMERS RACE

CLASS A

After a delayed start of some 30 minutes due to showers of rain on some sections of the circuit, Eire's Seamus Greene led the field away for the start of the first MGP race of the year. Pre-practice favourite Michael Skene started some 20 seconds behind Greene, the Scotsman gunning down Glencrutchery Road like a man on a mission.

At Glen Helen on lap 1 it was Seamus Greene who led the race, but only by 2 seconds from Skene. Dan Stewart was in third place. It was all change at the end of that lap with Skene overhauling Greene and pulling out an advantage of around 13 seconds as they flew down the Glencrutchery Road to start the second lap. Greene in turn had opened up a sizeable gap between himself and third-placed man Stewart, giving himself a good cushion with which to settle down and get into the race.

The pace up front was relentless-particularly from Skene-and when the leading men came into the pits to take on fuel at the end of lap 2, Skene was safe in the knowledge that he held a 20-odd second advantage over Greene, who had pulled out over a minute over third-placed man Dan Stewart. The leading trio all had slick pitstops and blasted away down Bray Hill for the penultimate time.

At the timing point at Ramsey on lap 3, it was a case of "as you were", with Skene arriving well before schedule, having pulled out a further 10-odd seconds over Greene, and surely on for a record-breaking lap. And quick he most certainly was. As Michael Skene crossed the line to start his final lap, he smashed the class lap record, knocking some 30s off the old time, recording a lap of 115.11mph - phenomenal speeds for a newcomer on damp roads!

Skene was looking good out in front, the 600 Yamaha maintaining a cracking pace as he enjoyed a handy advantage over the chasing Greene, with Stewart a now-distant third, in excess of 2 minutes adrift of Greene. Skene had it all sewn up-or so we thought. Just as he was beginning the descent of the mountain and with only 6 of the 150 miles left to run, Skene parted company with his machine at Brandywell, apparently being caught out by damp patches on the road, a legacy of the earlier showers. Mercifully, Skene was not seriously injured, and walked away from this 100mph+ accident. This left the door wide open for Seamus Greene to take the victory on his maiden outing on the Mountain Circuit, but the amiable Irishman admitted to mixed feelings about the victory.

"I'm over the moon with the win, but I'm just really pleased that Michael is OK. I saw the remains of his bike at the side of the road and knew I just had to take it steady for the win," said Greene as he was greeted by his team in the winners' enclosure. True, Greene won largely as a result of Skene's misfortune, but it demonstrates the adage "to finish first, first you've got to finish". Also beneficiaries from the demise of Skene were Cumbria's Dan Stewart, who was promoted to second place and Dungannon's Victor Gilmore who moved up into third position at the flag. Andy Orton, Simon Perkin and Ian Watson made up the top six.


| | | | | |
| --- | --- | --- | --- | --- |
| POSITION | RIDER | MACHINE | TIME | MPH |
| 1 | Seamus Greene | 600 Honda | 1:20:42.0 | 112.20 |
| 2 | Dan Stewart | 600 Yamaha | 1:23:51.3 | 107.98 |
| 3 | Victor Gilmore | 600 Yamaha | 1:24:07.8 | 107.63 |
| 4 | Andy Orton | 600 Honda | 1:25:45.7 | 105.58 |
| 5 | Simon Perkin | 996 Ducati | 1:25:51.8 | 105.46 |
| 6 | Ian Watson | 600 Kawasaki | 1:26:10.0 | 105.08 |
| | | | | |
| FASTEST LAP | Mick Skene | 600 Yamaha | 19:39.9 | 115.11 |
| | | | | |
| CLUB TEAM AWARD | MCRRC of Ireland | Seamus Greene | Victor Gilmore | Martin Finnegan |



CLASS B

The build-up to the Newcomers 250cc race had us all wondering who would emerge victorious. Practice times suggested that three riders were in with a realistic shout of taking the honours: Davy Morgan, Steve Kuenne and Martin Finnegan. Morgan had topped the practice leaderboard with a lap of 106.12mph, with Kuenne second on 105.50mph and Finnegan a distant third at 101.52mph. The latter man had reckoned a 110mph lap was on, if his bike kept going and the conditions were right. So could Martin Finnegan live up to his claims ? We were about to find out.

Finnegan and sparring partner Davy Morgan left the line together to begin the plunge down Bray Hill and begin a dog-fight that was to last the entire race. Next away, ten seconds later was local man and dark horse Tynan Pritchard and Stuart Garton. Crewe's Steve Kuenne, the other man to watch, departed some thirty seconds later. Finnegan arrived at Glen Helen on lap 1 ahead on the roads, but only by a matter of yards from Morgan. When the times were shuffled in, it was indeed Finnegan and Morgan who jointly led the race by some 5 seconds from Steve Kuenne in third spot, with Tynan Pritchard a further distance back.

As the leaders crossed the mountain and screamed past the start/finish line to complete the first lap Finnegan and Morgan were still only separated by a matter of yards on the road, and "me and my shadow" were all set for a tremendous scrap. Again the pace up front was red-hot, and third-placed man Kuenne was already dropping back as the two Irish lads turned up the gas. Kuenne was however enjoying a good lead over Tynan Pritchard, who in turn was way ahead of Richard Parker in fifth and Stuart Garton in sixth.

By Ramsey on lap 2, Finnegan had edged away from Morgan, but the gap on the roads was only around 100yards and his actual race lead was still under a second. Try as he might to get away, Finnegan found that the stubborn Morgan would not let him go, and the pair were trading places throughout the lap. All this scrapping was pushing the lap times up, and one sensed that on the final lap, the only flying lap of the race, the lap record surely had to go. Unsurprisingly, Martin and Davy came in to the pits at the end of lap 2 almost neck and neck. Demon work by Finnegan's pit-crew (who had been practising their stops the previous day) allowed Martin to exit the pits some 5 seconds ahead of Morgan, whose crew were not quite as slick.

By Glen Helen on lap 3 however, Morgan had made up the deficit and the pair were now neck and neck on the roads once more. Steve Kuenne was enjoying a lonely ride in third place, as was Ramsey's Tynan Pritchard, who was still out on his own in fourth spot. Towards the end of Sulby Straight Finnegan had only a 0.5s advantage over Morgan, who was now beginning to turn up the heat once more.

Finnegan and Morgan crossed the line to start the final lap and you just knew this would be a fight until the bitter end. Could Finnegan, who had led on the roads for most of the race, deliver on his promises, or was Morgan just biding his time, waiting for the opportune moment to pounce? At Glen Helen, Finnegan had once more pulled out a slight advantage, but by Sulby the gap was some 3 seconds and Finnegan was now looking comfortable. Could he hang on over the mountain and take the win? He certainly could, extending his lead over Morgan to just under 10 seconds and taking a brilliant victory, smashing the lap record in the process with a final lap of 111.29mph. Steve Kuenne retired towards the end of the last lap, allowing Tynan Pritchard to leap-frog up into an excellent third place. The crowd certainly got their money's worth in this thriller of a race!


| | | | | |
| --- | --- | --- | --- | --- |
| POSITION | RIDER | MACHINE | TIME | MPH |
| 1 | Martin Finnegan | 250 Honda | 1:23:51.1 | 107.99 |
| 2 | Davy Morgan | 250 Honda | 1:24:00.3 | 107.79 |
| 3 | Tynan Pritchard | 250 Yamaha | 1:30:12.9 | 100.37 |
| 4 | Richard Parker | 250 Yamaha | 1:33:05.1 | 97.27 |
| 5 | Stuart Garton | 250 Yamaha | 1:37:33.9 | 92.81 |
| 6 | Scott Davies | 250 Yamaha | 1:40:20.3 | 90.24 |
| | | | | |
| FASTEST LAP | Martin Finnegan | 250 Honda | 20:21.5 | 111.19 |
| | | | | |



CLASS C

The combined 125/400cc race looked set to be a battle between local men Paul Corrin on his 398 Kawasaki and Chris Dowling on his 399 Honda, as this pair had totally dominated the practice leaderboards and were substantially faster than anyone in the class. Corrin had lapped at 104.44mph and Dowling was marginally faster at 104.54mph, with their nearest rival over 90 seconds behind.

Neil Pearson led the class away along with Rob Graham, with Corrin following 10 seconds later, and Dowling a further 10 seconds back still. By Ramsey on the first lap however, there was no mistaking the leader-it was Dowling by quite a margin from Corrin, who in turn was quite a distance ahead of third-placed man Glen Winterbottom. It was still Dowling who led as they crossed the line to start their second lap, with an increased advantage over second-placed Corrin. The leading duo were already beginning to open up a big gap between themselves and third-placed Winterbottom and fouth man Neil Pearson.

Dowling came into "Gasoline Alley" at the end of the second lap and was quickly put in the picture by his pit-crew. He was nearly finished with his stop just as Corrin was arriving for his, and at this point Dowling surely knew he had this one in the bag if the bike kept going. Corrin had a neat stop and was rapidly away too, but must've known he was onto a loser chasing Dowling and settled for second spot in his mind.

Dowling had no thoughts of resting on his laurels though: he continued to pull away from Corrin on laps 3 and 4 and going over the mountain for the final time, Dowling was almost a minute clear of Onchan-man Corrin, with Glen Winterbottom still holding on to third spot, albeit a staggering 4½ minutes in arrears to Corrin! At the line then it was Dowling who took the victory, finishing almost a minute ahead of Corrin and breaking the lap record just for good measure with a final lap of 104.28mph. Winterbottom was third, Neil Pearson fourth, Sean Rix fifth and Steve McDonald in sixth spot. An amazing 24 minutes covered the 9 finishers in this race!



| | | | | |
| --- | --- | --- | --- | --- |
| POSITION | RIDER | MACHINE | TIME | MPH |
| 1 | Chris Dowling | 399 Honda | 1:27:37.3 | 103.34 |
| 2 | Paul Corrin | 398 Kawasaki | 1:28:37.8 | 102.16 |
| 3 | Glen Winterbottom | 399 Honda | 1:33.13.3 | 97.13 |
| 4 | Neil Pearson | 125 Honda | 1:33.48.1 | 96.53 |
| 5 | Sean Rix | 399 Honda | 1:38:56.2 | 91.52 |
| 6 | Steve McDonald | 400 Honda | 1:41:34.8 | 89.14 |
| | | | | |
| FASTEST LAP | Chris Dowling | 399 Honda | 21:42.5 | 104.28 |
| | | | | |
Back to Features Index