Incident during Southern 100 Sidecar Race
Author Malcolm
Thursday, Jul 11, 2013 8:43 pm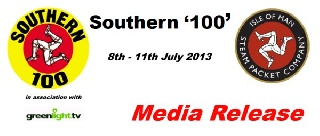 The Southern 100 MCRC, organisers of the Southern 100 International Road Races, regret to announce the death of Paul Thomas, from Ballasalla, Isle of Man following an incident at Osborne's on the back section of the Billown course on the last lap the Sidecar Championship race on Thursday afternoon.

Paul 58, leaves a wife Nancy and a daughter Claire.

He was an experienced sidecar passenger and had competed previously and won on the Southern 100 course.

Away from being the 'ballast' in the sidecar outfit, ridden by Nick Houghton, he was a hard-working member of the Southern 100 Racing organisation and a great friend to all connected with the sport of motorcycle road racing.

Southern 100 Racing extends its sincere condolences to families, relatives and friends at this very sad time.

The organisers are carrying out a full investigation into the circumstances of the incident; the Coroner of Inquests has been informed.