Manx Radio TT celebrates 50th anniversary at 2014 Isle of Man TT Races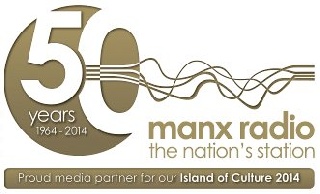 Manx Radio TT will be celebrating its fiftieth anniversary of providing a dedicated radio service at the 2014 Isle of Man TT Races fuelled by Monster Energy, having first broadcast on Senior Race Day in June 1964.

The station will take to the airwaves on Monday 26th May from 7.30am bringing a mixture of music, news and entertainment as well as its qualifying and race commentary service throughout the fortnight.

There are two new additions to the team this year. Former British Champion and TT race winner Chris Palmer, who rounded off his Mountain Course career with two wins in the inaugural Classic TT meeting last year, will join Chris Kinley for extensive coverage of all the evening practice sessions.

Chris Kinley will again host the morning Chat Shows from the studio in the Sure Shop at the back of the Grandstand but the programme will also venture out to locations such as Billown, Creg-ny-Baa and campsites around the island for live chat shows featuring leading TT stars.
There will be more chat at lunchtimes with Sheffield based journalist Rachael Clegg, whose father Noel is an ex-TT Racer, joining Marc Tyley as co-presenter and interviewer on the TT Diner.

The afternoon 'After Burner' show, features Manx Radio's Breakfast host Chris Williams while Stu Peters and Simon Quine will take the evening slot, playing a wide and eclectic mix of tracks.

The race commentary team, keeping fans trackside and worldwide updated via the 1368AM and on-line stream, is back providing all the crucial developments, reaction and breaking news.

The Manx Radio TT team remains Tim Glover, who will be the anchor commentator at the Grandstand, Dave Christian at the first checkpoint at Glen Helen with Roy Moore updating from his traditional spot at Ramsey Hairpin. Chris Kinley will be patrolling the startline, pitlane and parc ferme providing live updates and getting the inside track from riders as they leave the line and return to the grandstand.