NUMEROUS CONTENDERS FOR MONSTER ENERGY SUPERSPORT TT RACES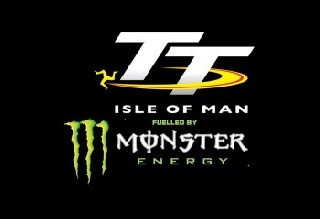 Once again, the Monster Energy Supersport 600cc races received more entries than any of the other classes on the programme at the 2016 Isle of Man TT Races, fuelled by Monster Energy, which will mean that 95 of the world's best road racers will line up on Glencrutchery Road for the two four-lap races which they should see some of the closest and most competitive action of TT2016.

The top 20 riders are again seeded but unlike previous years, where there's been some significant shuffling between the different classes, 2016 sees the starting top ten in identical order to the 1000cc races although the pre-race favourites will vary.

Ian Hutchinson claimed victory in both races last year and the Bingley Bullet will again be riding for Keith Flint's Team Traction Control Yamaha team. With countless 127mph+ laps in the class already, he'll start the race as the slight favourite from number four.

Michael Dunlop was forced to retire from both races in 2015 due to the arm injuries sustained in the RST Superbike race but he still holds the class lap record at close to 129mph and could prove to be Hutchy's biggest threat. The Ballymoney rider will again line up at number six but this time for his own MD Racing team with his choice of machinery yet to be confirmed.

Bruce Anstey, the Valvoline Racing by Padgetts Honda ride, is another who is likely to be challenging at the front of the field. The Kiwi took a pair of seconds in 2015 and pushed Hutchinson all the way in what's always been one of his favourite races.

Fellow Antipodean Cameron Donald will also be looking to show the form that saw him take two second places and the TT Supporters Club Trophy in 2012. Back on board the Wilson Craig Racing Honda, Donald has lapped at close to 127mph on the 600cc machine and cannot be ruled out.

The Jackson Racing duo of John McGuinness, number 1, and Conor Cummins, at number 10, will provide Honda with other potential race winners but in a field of multiple potential race winners Kawasaki, Yamaha and Triumph all have riders capable of winning.

Yamaha, and specifically the Mar-Train Racing team, have a strong opportunity with Manxman Dan Kneen (14) who recorded his best TT finish to date of fifth in the opening race of 2010. However, William Dunlop (8) on the CD Racing machine will fancy his chances of being the first Yamaha rider home having already finished on the podium three times in this race.

Triumph have two potential winners in Gary Johnson (7) and Lee Johnston (13), the former having previously won the race on the British machine when riding for Smiths Racing in 2014. This time around he's riding for T3 Racing while Johnston (13) will again line up for his regular East Coast Construction team, which could provide his best opportunity of claiming a maiden TT victory.

James Hillier (3) will again spearhead Kawasaki's efforts on the Quattro Plant Muc-Off machine as he looks to step on to a 600cc rostrum for the first time, an ambition shared by Peter Hickman (5) on his privately entered ZX-6R and Dean Harrison on the Silicone Engineering entrant. Other quick men on Kawasakis include Michael Rutter (9) riding for Bathams/SMT Racing and Iast year's Lightweight race winner Ivan Lintin who again has the number 20 plate for Devitt RC Express Racing.

Australian David Johnson, Dan Stewart and Martin Jessopp will again start at numbers 15, 17 and 18 respectively whilst the top 20 riders shows just two differences to the 1000cc races with Dan Cooper (16) and James Cowton (19) being seeded on this occasion.

As always, there's plenty of quality outside the top 20 as well with Jamie Coward (21), Daniel Hegarty (22), last year's Newcomers Trophy winner Derek McGee (24), Steve Mercer (25) and 2015 Manx GP winner Malachi Mitchell-Thomas (23) just some of the names more than capable of top 15 finishes.

Other riders to look out for include Sam West (27), Mark Miller (31), Connor Behan (34), Christopher Dixon (39) and Hudson Kennaugh (43) while a number of Manx Grand Prix riders step up to the TT for the first time including David Sellers (44), Rob Hodson (49), Joseph Newbould (50), Karl Foster (61) and local rider Paul Smyth (62).

Such as been the quality and depth of the entry, just three newcomers have been accepted but there's an international flavour with Northern Ireland's Seamus Elliott, Canada's Darren James and Norway's Olaf Romjin set to line up for the Monday and Wednesday races.

With 95 entries challenging for just 78 starting places on the grid, a starting position will have to be earned.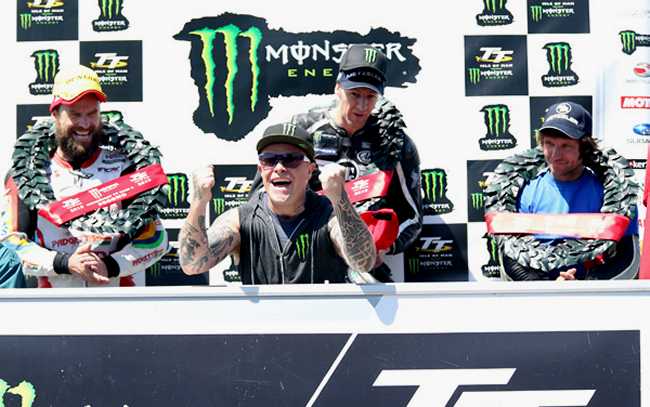 Keith Flint of Prodigy, celebrates with Ian Hutchinson
who was the winner of both 2015 Supersport Races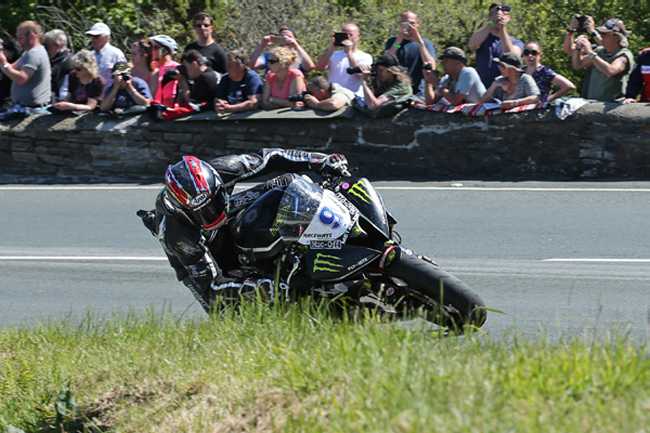 Ian Hutchinson winner of both Supersport races in 2015 for Team Traction Control