TTSC - CHAIRMAN ROY HANKS 50 YEARS AND STILL GOING AT THE TT
Author TTwebsite
Wednesday, May 11, 2016 3:23 pm

At TT 2016 Roy will reach yet another milestone in his sidecar racing career it will be his 50th year at the TT.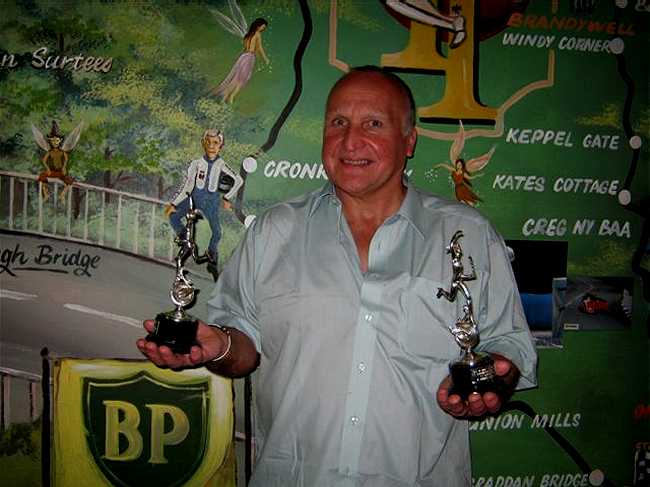 From a shop in Erdington Birmingham called Fred Hanks Motorcycles emerged a sidecar dynasty starting with his father Fred and brother Norman racing on both Circuits and at the TT. Roy was soon to follow and still in the same shop as his workplace along with co owner his sister Beryl Daniel.

The Hanks family have been racing sidecars at the TT since 1955.

Not to be outdone and following in the wheel tracks of father Fred and brother Norman Roy made his debut at the TT in 1966 at the age of 18, with a finish in 18 place on a BSA with a race speed of 72.92 mph.

Following that he went on to achieve a high number of excellent finishing positions with different passengers at the TT

Outside the top 30 two finishes

30th to 20th two finishes

20th to 10th 13 finishes

10th to 5th 8 finishes

Top 5 include finishing in 5th place 8 times 4th place 11 times 2nd place 8 times

So far Roy has collected 47 TT Replicas and a fastest lap of over 108 mph.

In 1997 Roy finally achieved what he set out to do winning Sidecar Race A with a race speed of 105.62 mph with his passenger Phil Biggs in Second place just 2.2 seconds behind was Vince and Graham Biggs and in Third place Tom Hanks and Steve Wilson

The podium was pretty much a family affair as Tom is Roy's Nephew both Graham and Phil are brothers and Vince's Nephews, another interesting fact Vince and Tom were both passengers for Roy in past TT races, In the Sidecar Race B Roy and Phil finished in 4th place.

Roy certainly carried on the family connection his brother in law Gerald Daniel was also his passenger for four years at the TT. Norman competed at the TT with a lady passenger Rose Arnold for three years in 1968 she was the first ever lady to stand on the TT Podium when they finished second in the sidecar 750 race Rose later became Roy's wife.

Roy's achievements during his racing career are too numerous to mention both in open and the later format of Formula 2 sidecar classes.

With the knowledge Roy has about the TT course if you're a newcomer I'm sure he will give you good advice on how to tackle the course so don't be afraid to ask I'm sure he won't mind.

Roy is highly respected both in and outside the racing paddock. When he is not racing not only is he hard at work in the shop, he keeps himself occupied with the following organisations. In 1997 he became a director of the ACU. He is also Chairman of the ACU Benevolent Fund and has taken over from his late father as Chairman of the TT Supporters Club.

The Hank's racing doesn't end there because following in his wheel tracks at the TT is his daughter Julie Hanks-Elliot as a passenger and maybe one day as a driver so watch this space!! Who knows what other sporting events the Hank's name will appear in!!.

Roy will will start at number 18.

Let's all do our best to help Roy celebrate this great achievement and milestone in his racing career get your TT programmes signed by him and don't forget to acknowledge him as he goes around the course on practice and race days along with his passenger Kevin Perry.

I couldn't end without mentioning his former passenger and good friend Dave Wells who sadly lost his life following an accident at Mallory Park in 2011 he is fondly remembered by the whole of the sidecar racing fraternity. In the 11 years they became one of the most highly successful paring both on the circuits and road racing earning the nickname the "flying granddads" winning the ACU/FSRA Super F2 Championship and many other individual racing podium finishes.



Thank you for all your help and support you have given to me over years gone by.

Enjoy your 50th year Roy my good friend come home safe.

Pete Oulton.




---