ACTION STARTS THIS EVENING AROUND MOUNTAIN COURSE FOR 2016 TT RACES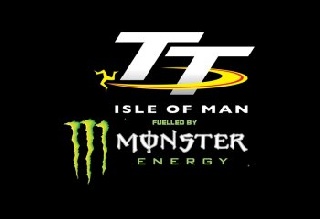 The first qualifying session for the 2016 Isle of Man TT Races fuelled by Monster Energy takes place this evening. The solo and sidecar newcomers will be out first onto the TT Mountain Course for their speed-controlled lap, which is scheduled to get underway at 6.20pm (GMT).
That is followed by a session for the Monster Energy Supersport and Bennetts Lightweight classes, which will also include solo newcomers.
All of the leading riders will be on the course for the 600cc session, although the 1000cc Superstock and Superbike machines will get their first outing on Monday evening.
John McGuinness raised the bar last year when he won the PokerStars Senior Race on a Honda Superbike, which included a lap record of 17m 03.567secs, at an average speed of 132.701mph. The 23 TT race winner thinks he can go even faster this year.
"Last year I was timed point to point on that record lap at 17m 01secs so it is possible and maybe it will have to be done to win the Superbike races. The top 10 riders will all be looking at having to do that but it will come down to the conditions. Last year in the Senior the grip was great, the track was perfect, so if it is like that this time, then it can be done."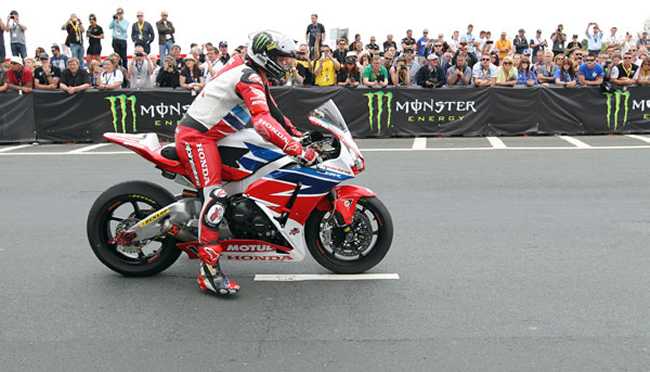 Last year marked a return to the big time for Ian Hutchinson and you'd be hard-pressed to find a more popular winner than the Yorkshireman after his well-documented recovery from injury.
The Bingley Bullet ended last year's TT fortnight with three wins, a second and a third from his five races, picking up the Joey Dunlop Championship Trophy for the best rider of the week in the process
That moved Hutchy's tally of wins around the Mountain Course to 11, equal with another of the pre-race favourites Michael Dunlop.
This year he has teamed up with Hector and Philip Neill's Tyco BMW team as well as representing the Team Traction Control outfit for whom he won both Monster Energy Supersport Races last year. He believes that he has the machines to repeat his 2010 feat when he won five races in a week:
"There's no doubt I've got good enough bikes to win all five races and I know I have the ability to do it," he said. "But, as we all know, anything can happen in racing and it's incredibly tough to win one let alone five. Winning at the TT isn't just about the rider, nor is it just about the bike. Everything needs to come together on the day – you, the bike, the team, the weather, everything. All I know is that I'll be going to the TT as prepared as I've ever been and will be giving it my best shot."
Michael Dunlop comes into this year's TT on the back of a record breaking North West 200 performance, smashing Josh Brookes' 2014 outright lap record by half a second and thinks that he has a great chance for honours in the TT:
"If the Hawk BMW performs as well at the TT as it did at the North West 200, we'll be in with a shout of the big wins."
All eyes will be on Bruce Anstey's Valvoline Racing by Padgett's Motorcycles Honda RC213V-S which will get its first outing in Monday's session.
The New Zealander is clearly thrilled at the prospect of racing the production version of Marc Marquez's Grand Prix bike and said:
"It has always been a dream of mine to ride a MotoGP bike at the TT and this is as close as I will ever get," the ten time TT Race winner said. "The RCV should be an absolute weapon because it has loads of power but it feels as nimble as a 600." he said. "It should be stable too as it's over 2 inches longer than a Fireblade but is still really small and compact. I am really looking forward to seeing how it handles through the quick corners because it will be able to turn so fast."
The sidecars will get their first proper look at the Mountain Course in Monday night's session and it could be one of the more open races in recent memory with seven former race winners returning to the TT Mountain Course in the line up.
17-time TT winner and outright lap record holder Dave Molyneux now reunited with former passenger Daniel Sayle will start favourites. The duo last competed together in 2009 and with Sayle having eight wins of his own, they're arguably the team to beat.
There are plenty of outfits who will challenge the Manx pair, none more so than the Birchall brothers, Ben and Tom, the second fastest crew in history, who did the double last year., John Holden who took his 12th and 13th podiums in last year's races with Sayle in the chair, is reunited with regular passenger Andy Winkle. Holden will be looking to take his second TT win. Kent's Tim Reeves, with Patrick Farrance on board again, is another potential victor while 2014 race winner, Bradford's Conrad Harrison, has a new passenger in Dean Kilkenny.
Roads around the T.T. Course will be closed at 6pm but the Mountain section from Barrule Park, Ramsey to the Bungalow shuts at 4.45pm and the section to the Creg-ny-Baa at 5pm.
You can follow all of the qualifying and racing around the Mountain Course via the live timing and live Manx Radio commentary which is available via iomtt.com.
Tickets are now on sale and selling fast for the 2016 TT Races fuelled by Monster Energy. There is very limited availability for the Glencrutchery Road Grandstand race day tickets but there are still Sure TT Fan Zone Grandstand tickets available at Ballacrye, Creg Ny Baa and Nobles Park during qualifying and race days. Grandstand tickets are also available by purchasing VIP or Platinum Hospitality tickets. All tickets are available from
www.iomtt.com
or by phoning 00 44
(0)1624 640000