| | | |
| --- | --- | --- |
| Practice Week: | | Aug 21 - Aug 27 |
| Race Week: | | Aug 28 - Sept 3 |

| | | |
| --- | --- | --- |
| Practice Week: | | May 28 - June 1 |
| Race Week: | | June 2 - June 8 |
Southern 100 Road Races - Planning to Go Ahead in 2021
Author TTwebsite
Monday, Dec 7, 2020 4:18 pm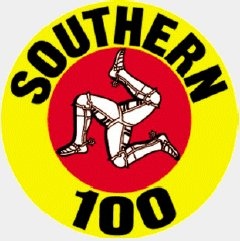 The Directors of Southern 100 Racing met recently and are pleased to announce that planning and organisation of the Isle of Man Steam Packet Company Southern 100 Road Races is to continue for the 2021 event.



The Provisional dates are:



Monday, Tuesday, Wednesday, and Thursday, 12th, 13th, 14th & 15th July 2021

It is important to understand that with the ongoing restrictions regarding the Covid-19 Pandemic likely to still be in place early into 2021, that events may have to be cancelled due to circumstances and Isle of Man government policy in force prior to and during the event.

Southern 100 Racing would ask Competitors, Officials, Marshals, and spectators to ensure that all accommodation bookings and travel arrangements made are changeable or refundable should the provisional dates have to be changed.

Our partners, The Isle of Man Steam Packet Company Limited are already publicising that bookings made now, will not be subject to amendment fees and fully refundable should events be re-scheduled or cancelled due to the Covid-19 pandemic. If travelling by air, please check with your airline company.

It is also perhaps a timely reminder to everyone travelling to the Isle of Man, by whatever means to make sure that you have sufficient health insurance. The reciprocal agreement between the Isle of Man Health Service and the UK National Health Service only covers initial emergency treatment in hospital.

Any additional service must be (hopefully) covered by personal insurance, or you could end up paying! (Competitors are covered in the case of a racing incident).

Southern 100 Racing look forward to welcoming back fans old and new to the three 'friendly races' held on the Colas Billown Course since 1955.

Full information and updates can be found on the club's official website,
http://www.southern100.com
and on our Facebook page
https://www.facebook.com/S100RoadRaces
.

Southern 100 Racing are very much indebted to our race headline sponsors, Isle of Man Steam Packet Company and the Department for Enterprise for their much valued and continuing support during these difficult and trying times.

In the meantime, stay well and stay safe and see you in 2021 !