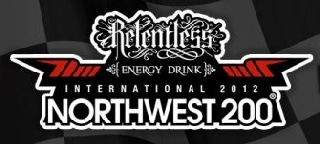 Conor is part of a three man squad in Northern Ireland as Alastair Seeley joins regular team-mate Guy Martin.
Seeley was fastest ahead of John McGuinness, William Dunlop, Guy Martin, Martin Jessop (who was clocked at 208mph at the speed-trap) and the returning Ian Hutchinson.
Conor is without a 600cc ride and failed to qualify his Superstock bike.
Dan Kneen is 23rd in the Superbikes, 12th in the Supersports and 16th in the Superstocks.
Other Manxies involved -

Dave Madsen-Mygdal is 43rd in the Superbikes and 22nd in the Supertwins,
Mark Madsen-Mygdal 35th in the Supersport,
John Barton is 19th in the Supertwins with Billy Cummins in 29th place.
Leaders in the four classes:-

Superbike - Alastair Seeley - 120.689mph
Supersport - Alastair Seeley - 113.242mph
Superstock - Ryan Farquhar - 117.552mph
Supertwin - Adrian Archibald - 104.357mph