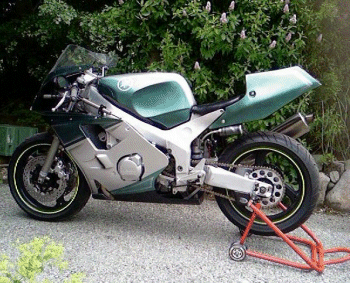 Towards the back end of last year it was decided upon, that it was time for Cargo to get his long overdue rep at the Manx. With this in mind I set about purchasing a bike and lots and lots of spare parts to deliver to Ian at Frank Wrathalls, for Ian to strip, check, renew where necessary, adjust, inprove upon, re-assemble and test. All of this initially being carried out without Cargo knowing anything about it.

Eventually Cargo had to know about this as it had to be entered in his name for the Ultra-Lightweright race in this years Manx Grand Prix.

The bike has been entirely rebuilt from scratch by Ian at FW Developments with fabulous results being attained on the Dyno.

Founded in 1986 by Frank Wrathall, FW Developments are one of the premier motorcycle racing development companies, with many years experience of preparing and building motorcycle racing engines, both two stroke and four stroke. Frank Wrathall himself has taken a personal interest in this project and FW Developments are at present preparing a second engine of equal capability for the bike. Many teams and riders have benefited from the engine work done at FWD and now so will we.

Many thanks to all who provided assistance in getting this bike to where it is now. All the folk at Wrathalls (especiially Ian and Frank Snr), Richard at Maxtons, Ben for the Exhaust, Geoff for the paintwork and Autographics for the Graphics/Stickers.

Both Malcolm and Cargo believe absolutely that motorcycle road racing should primarily be a sport and that it should be fun.

We want to enjoy the Manx and go home safe and in one piece having said that this bike gives Cargo a real chance of getting his hands on a replica and he'll be giving it his best possible effort.

We will of course be bringing you all the news from the Manx GP 2008 on TTwebsite.com



For those who are interested, the bike should be out at Oulton on August 6th for its final shake down prior to the Manx. Myself, Cargo and Neil Porter will all be there, so if you happen to be around on the day, drop by for a chat and a cuppa.