Sykes seventh at drenched Knockhill
Author: Rizla Suzuki Press Release
Posted on: Sunday, Aug 10 2008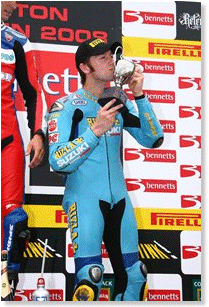 During free practice three which proceeds qualifying, Sykes headed the time sheets as his team used data they had gathered during the Brands Hatch World Superbike weekend to set up his bike for the wet conditions. The rain continued for the singular 50-minute qualifying session but stopped with 10-minutes remaining. As he was preparing to go for his fastest lap at the end of the session the track was drying but his wet set-up didnít allow him to improve his time.

Rizla Suzukiís Atsushi Watanabe had a baptism of water on his debut at the 1.27-mile Scottish circuit and immediately had to adapt both to the new track and the harsh weather conditions. He worked on set-up for his Rizla Suzuki and steadily improved his lap times, getting faster every time he left the pit box. He took three seconds off his lap times between todayís sessions and will start from 16th on the fourth row of the grid.

Superbike race one is at 1300 and race two at 1530 on Sunday 10th August. Eurosport 2 will broadcast live at 1230-1630.

Tom: ďIn the full wet conditions this morning we had plenty of grip but this afternoon as the track dried out a little we started to struggle. We are on the second row and at the end of the day thatís a good place to be. My Rizla Suzuki team will work hard to give me the best bike possible for tomorrow and Iím confident it will all come together.Ē

Atsu: ďI like Knockhill but qualifying is difficult. I want to be further forward - especially after my result at Suzuka. My Rizla Suzuki feels good in moist conditions and I like Knockhill so I will work hard in the race and hope for improving result.Ē

Jack Valentine, Team Manager Rizla Suzuki: ďTom had the pace to challenge for the front row but the drying track right at the end of the session confounded his bike set-up and didnít give him the chance to achieve that. By the time he came in the session was nearly over so he wasnít able to take his number two bike out to try and improve his position. Second row isnít the end of the world and I know Tom has been riding incredibly well lately, Iím confident in either the wet or the dry he can fight for the podium.

ďAtsu has done really well as he has had to learn a new circuit in difficult conditions and has gone faster every session. Knockhill isnít an easy track to learn as it is such a short lap and there is nowhere to take a rest. I must say Iím pleased with his progress and with a bit of luck he will get into the top 10 tomorrow.Ē

Qualifying:

1: Leon Haslam (Honda) 52:692

2: Michael Rutter (Ducati) +0.274

3: Shane Byrne (Ducati) +0.282

4: Michael Laverty (Suzuki) +0.311

5: Cal Crutchlow (Honda) +0.485

6: Leon Camier (Ducati) +0.576

7: TOM SYKES (RIZLA SUZUKI) +0.603

8: James Ellison (Honda) +0.895

9: Karl Harris (Yamaha) +1.076

10: Tristan Palmer (Honda) +1.184

16: ATSUSHI WATANABE (RIZLA SUZUKI) +2.126.