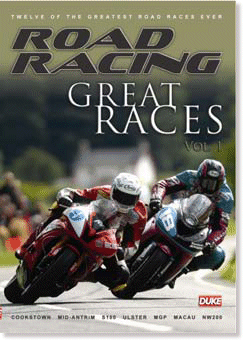 Road Racing Great Races Vol.1 counts down our selection of the fastest, closest and most unforgettable showdowns seen in modern between-the-hedges racing.

This is an action-packed spectacular, featuring many of the greatest road racers around on some of the most
challenging – and demanding – tracks.

Featuring action from great road races from 1995 to 2008, Road Racing Great Races Vol.1 is the first instalment in a hugely collectable series.

Plans for Vol.2 are already underway, with the Isle of Man TT's Great Races set to feature.

In this first volume, leading road racing commentator Stephen Watson is your guide as you experience our selection of Road Racing's Great Races, with action from the Ulster Grand Prix, Macau, Southern 100, Cookstown 100, Mid-Antrim 150, Manx Grand Prix and North West 200.

There's comprehensive coverage of all 12 of the carefully selected events, featuring incredible race action captured by the best camera angles, including plenty of white-knuckle on-board footage, and interviews with many of the leading riders.

Road Racing's Great Races features Phillip McCallen, Ian Lougher, John McGuinness, Richard Britton, Ryan Farquhar, Bruce Anstey, Adrian Archibald, Guy Martin, Ian Hutchinson, Steve Plater and a host more of the biggest names in the sport.

The extraordinary, unbelievable and unforgettable moments just keep coming, from the nail biting battle between Mike Edwards and McCallen around the twisting streets of Macau to one of the closest-ever finishes on the Isle of Man Mountain circuit – the 2006 MGP Junior results settled by just 0.01 of a second after more than 150miles!

Then there's the record-breaking pace Ulster GP showdown between Martin and Hutchinson, with Martin scoring his first International win by just 0.529 seconds.

And what about the breathtaking four-way dice for victory during the 2005 600cc race at the Dundrod circuit? This is McGuinness, Anstey, Lougher and Archibald in an almost unbelievable dice for the win.

Bringing the selection right up to date is the complete 250cc race from this year's North West 200. The meeting was rocked by the death in practice of road racing great Robert Dunlop, a 15-time winner around the Portrush triangle.

Many couldn't believe their eyes when Robert's sons Michael and William lined up to start the 250cc race just two days after losing their dad.

What unfolded was truly one the great contests of road racing, as well as one of the great stories of the sport. Michael Dunlop's hard-fought and emotionally charged win could not be left out of any list of great races.

This is our selection of 12 of the greatest road races of the modern era – is your favourite here?

Road Racing Great Races Vol. 1 is released 13th October, priced at £14.99 on DVD, from leading video outlets or direct from Duke Video:

Tel 01624 640000
Fax 01624 640001
or
email mail@dukevideo.com.

Visit www.dukevideo.com online.