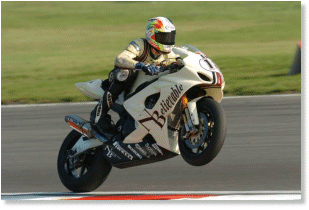 The 20 year old from Devizes in Wiltshire struggled during qualifying on the 1000cc Suzuki and as a result, could only manage eighth place on the grid but in the actual race, it was a different matter despite Bridewell getting a poor start.

From being tenth on the first lap, Tommy battled his way up through the quality field to eventually claim fourth position at the chequered flag behind World Championship regulars Luca Scassa, Ayrton Badovini and Norino Brignola and in doing so, beat Claudio Corti by the narrowest of margins.

"This is more like it and I feel like I'm back to riding how I know I can" said Bridewell, who suffered a broken leg in the opening round of the series back in April. "It's been a case of getting my confidence back and while my leg isn't ideal, it's better than it was and I felt comfortable out there. If only I could have got a good start, I may have been able to run with the leading trio but I'll settle for fourth just now, and being first Suzuki home also."

Bridewell now turns his attentions to the final round of the Suzuki GSXR750 European Cup at Magny Cours in France next weekend before returning to the UK to race in the final round of the British Supersport Championship at Brands Hatch a week later.