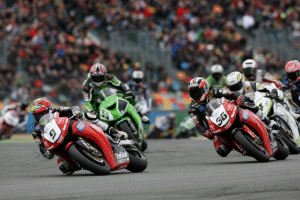 The team lost valuable practice time due to wet practice sessions on Friday and qualifying was a bit of a battle for both Chris and Greg but Greg managed to just make it into the Superpole lying in 16th which remained his final grid position for the race. Having not had a full dry weekend on the bike since joining the PBM team at Brands Hatch, Chris spent more time getting to grips with the Superbike and gaining more confidence on the bike as he posted 23rd fastest time.





In the opening race, Lavilla posted a battling tenth position with Walker bringing the second of the Paul Bird Motorsport Honda Fireblades home in 15th and in race two, Lavilla claimed 12th at the flag with Walker replicating his race one position to score the final point.

Lavilla now lies in 12th place in the Championship with 117 points.

Gregorio Lavilla: "Having missed out on valuable timed practice once again due to bad weather it was not an ideal start to the weekend and I wasn't able to improve on my time or my bike set-up for qualifying and Superpole. I was happy to finish in the points and have two good results in the races and we are still the leading privateers in the Championship so it's not so bad. We still have a lot of work to do with the bike and I'm still learning with every race. I'm looking forward to racing at Portimao, a new circuit for all, and finishing the season on a high."

Chris Walker: "I'm happy to have two points scoring finishes having battled in free practice and qualifying. Starting from the sixth row doesn't make life easy so I really pushed hard for a decent start so I'm happy to walk away with two 15th positions. In race two, I had some good battles and finally felt like I was racing rather than just riding. I really enjoyed the races this weekend and the boys once again did a great job as I felt that I could be more consistently fast. I'm looking forward to the final race in Portugal."

Paul Bird: "We started the weekend once again in tough weather conditions and missed out on valuable practice sessions on Friday. The guys battled to get a comfortable bike set-up in time for Saturday morning qualifying and this showed in our final grid positions. However, I was happy to see that we kept up our consistency and brought both bikes home in the points which is a good achievement having started from fourth and sixth row on the grid. I'd like to congratulate two Australians today, Troy Bayliss and Andrew Pitt, for their respective World Championship successes. We look forward to ending our rookie year in World Superbikes in Portugal on a high in a month's time and planning ahead for 2009."

Race 1 Result

1. N. Haga (Yamaha); 2. F. Nieto (Suzuki) +6.223; 3. T. Bayliss (Ducati) +6.875; 4. M. Biaggi (Ducati) +7.237; 5. M. Neukirchner (Suzuki) 8.925; 6. T. Corser (Yamaha) +10.714; 7. C. Checa (Honda) +16.176; 8. Y. Kagayama (Suzuki) +22.661; 9. K. Sofuoglu (Honda) +27.224; 10. G. Lavilla (Honda) +31.300; 15. C.Walker (Honda).


Race 2 Result

1. T. Bayliss (Ducati); 2. N. Haga (Yamaha) +0.909; 3. T. Corser (Yamaha) +2.955; 4. C. Checa (Honda) +7.175; 5. R. Xaus (Ducati) 12.822; 6. M.Biaggi (Ducati) +13.004; 7. Y. Kagayama (Suzuki) +18.876; 8. F. Nieto (Suzuki) +19.512; 9. M. Neukirchner (Suzuki) +19.527; 10. R. Rolfo (Honda) +21.425; 12. G Lavilla (Honda); 15. C Walker (Honda).