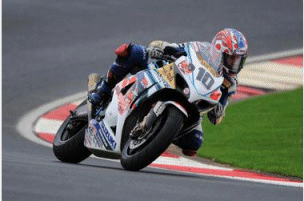 Although the rain abated in this afternoon's qualifying session, the track never completely dried out and all riders ended up on intermediate tyres. At the end of a difficult day, Nieto finished 12th, Neukirchner 13th and Kagayama 17th.

Troy Corser (Yamaha) set the day's quickest lap, nearly one-and-a-half seconds faster then his nearest rival Leon Haslam (Honda).


Fonsi Nieto - 12th, 2:00.194:

"This is a really good track and one of the best I have ever seen. Technically it is difficult and although it is not so hard to learn, it is not easy to cut those last fractions of a second when you are going for a good lap time. The conditions today were not easy and the damp meant that we never got any dry track time. The track felt a bit dirty today and I think we would have a lot of problems with grip if it rains in the race."

Max Neukirchner -13th, 2:00.263:

"I like this track. It is technical with a lot of changes of elevation but it was difficult to get a good lap time today because of the conditions and because I was seeing the track for the first time. The riders who tested here definitely have an advantage so we have a lot of work to do to catch up. The track is very black and I couldn't work out which parts were really wet and which parts were not, so I it was difficult to push hard. This morning we had a problem with rear grip but it was better in the afternoon. I hope the rest of the weekend will be dry because I want to push hard so that I can challenge for second or third place in the championship."

Yukio Kagayama - 17th, 2:01.154:

"I like this track because it has many changes of elevation and it is not so easy, but fun. In some places it is a bit like Brands Hatch and Brno and I like those tracks a lot. My bike feeling was not so bad but maybe I made a wrong tyre choice this afternoon in qualifying and so my final position was not so good. The people who tested here have an advantage for sure, but if we get two days of dry weather I am sure I can be competitive."

Friday WSB Qualifying: 1 Corser (Aus-Yamaha) 1:55.791, 2 Haslam (GB-Honda) 1:57.214, 3 Fabrizio (I-Ducati) 1:57.440, 4 Xaus (E-Ducati) 1:58.115, 5 Crutchlow (GB-Honda) 1:58.327, 6 Walker (GB-Honda) 1:58.557, 7 Rea (GB-Honda) 1:589.356, 8 Checa (E-Honda) 1:59.676, 9 Laconi (F-Kawasaki) 1:59.939, 10 Bayliss (Aus-Ducati) 2:00.012. 12 Fonsi Nieto (E-Suzuki Alstare) 2:00.194. 13 Max Neukirchner (D-Alstare Suzuki) 2:00.263. 17 Yukio Kagayama (J-Suzuki Alstare) 2:01.154.


SUPERSTOCK 1000:

Conditions were very difficult on the opening day of the10th round of this year's Superstock 1000 FIM Cup at Portimao, but Xavi Simeon stayed out of trouble and recorded the day's fifth fastest time.

This is the first time that he and most of the other riders were seeing this brand-new track and the changeable conditions did not help the 41-strong field get to grips with the 4.592 kilometre circuit as quickly as normal.

Brendan Roberts was one of the few riders who tested here recently and used his circuit knowledge to set the day's quickest lap, seven-tenths-of-a-second ahead of his nearest rival Chris Seaton (Suzuki).

Xavi Simeon - 5th, 1:53.942:

"This track is difficult because it is very technical and there are a lot of ups and downs and many blind corners. The way to go fast is to put in many laps and learn the circuit and so it is an advantage if you have ridden here before. The track feels a bit dirty and slippery so I am not pushing my hardest yet. I have no big problem with the first two sections of the track but I am having a little problem with the final part. I don't yet have a good feeling in the last two fast turns. I hope the conditions improve tomorrow but, at the end of the day, it's the same for everybody and we will just have to get on with it."

Friday Superstock 1000 Qualifying: 1 Roberts (Aus-Ducati) 1:52.065, 2 Seaton (Aus-Suzuki) 1:52.770, 3 Pirro (I-Yamaha) 1:53.303, 4 Smrz (CZ-Honda) 1:53.380, 5 Xavi Simeon (B-Alstare Suzuki) 1:53.942, 6 Giugliano (I-Suzuki) 1:53.662.