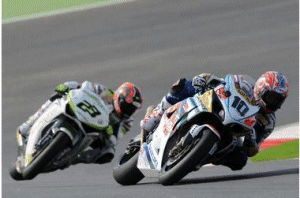 But it was a mixed day for Team Alstare Suzuki rider Max Neukirchner, who crashed out of race one but then recovered to take a hard-fought-for fourth in race two. For Team Suzuki Alstare rider Yukio Kagayama, it was a weekend to forget: He ended 15th in the first race and an even-more disappointing 23rd in the second.

Troy Bayliss (Ducati) brought the curtain down on his remarkable WSBK career today with a pair of runaway victories. Carlos Checa (Honda) was second in race one, with Troy Corser (Yamaha) third. In race two, his team mate Michel Fabrizio was second with 'wild card' Leon Haslam (Honda) third.

Fonsi Nieto - Race 1: 5th, Race 2: 5th:

"In this championship it is so hard to get a good result if you have to start anywhere lower than the second row of the grid. So, I am one person who is happy that there will be no Superpole next year! I think that to get two fifths from 16th on the grid is not so bad and when you consider that I was six seconds behind Bayliss on lap two of race and ended the race six seconds behind at the end, it means I was lapping at the same pace.

"We only made some small clicks to the bike from race one to race two and used the same tyre. At the start it was better, but at the end it was worse. I have really enjoyed this track and it is such a good design and very challenging. I wish that I had managed better in Superpole because I am sure that I could've finished on the podium at least one time. I would like to thank Francis and Patricia Batta and the whole team for all their support and hard work in this amazing year. I would like to be involved with them again next year and continue this great experience."

Max Neukirchner - Race 1: DNF, Race 2: 4th:

"I think that most of this weekend is about my youth and lack of experience. Other riders, with more experience, can get a good set-up in less time than me and this is what I am learning all the time. I am not sure why I crashed in race one because the telemetry doesn't show me doing anything different or going any faster than the laps before. We changed the front fork rebound for race two and the bike felt much better, but I was still losing a lot of time in the last corner and that prevented me from catching and passing Fabrizio.

"I am a little angry because I really thought that I could finish second or third in the championship halfway though the season. But the last four or five races have had mixed weather conditions and my lack of experience has meant that I didn't have the perfect bike set-up for race day. My mechanics and I are a young team and we are learning all the time. They have all worked hard and I think our season has been a pretty good one, all in all."

Yukio Kagayama - Race 1: 15th, race 2: 23rd:

"Today was not a good day for me. For sure we needed more good dry track time, but I am a little confused because I could do 1:44s yesterday but today I could not! Tyres were a bit of an issue for me today and although the feeling was not so bad, the result was really bad. I am going to spend a lot of time analysing all the data from this season and try and work out what has been going wrong and how to make changes. It may be that I have to change my riding style, but I should not be finishing in the kind of positions I have finished today, so something has to be done. I feel that this year's bike is more difficult to work with and understand than my 2006 bike. We have to try and improve the whole package and then we can look forward to better results. I want to say thank you to all my staff and also say sorry to them because I have not given them any podiums. No podiums for me is a shock and I do not want to have this kind of shock next year!"


Race 1: 1 Bayliss (Aus-Ducati), 2 C Checa (E-Honda), 3 Corser (Aus-Yamaha), 4 Rea (GB-Honda), 5 Fonsi Nieto (E-Suzuki Alstare), 6 Lavilla (E-Honda), 7 Haslam (GB-Honda), 8 Kiyonari (J-Honda), 9 Xaus (E-Ducati), 10 Laconi (F-Kawasaki). 15 Yukio Kagayama (J-Suzuki Alstare). Max Neukirchner (D-Alstare Suzuki) DNF.

Race 2: 1 Bayliss, 2 Fabrizio (I-Ducati), 3 Haslam, 4 Max Neukirchner (D-Alstare Suzuki), 5 Fonsi Nieto (E-Suzuki Alstare, 6 Troy Corser (Aus-Yamaha Motor Italia), 7 C Checa, 8 Lavilla (E-Honda), 9 Crutchlow (GB-Honda), 10 Laconi. 23 Yukio Kagayama (J-Suzuki Alstare).

Final WSB Points Standings: 1 Bayliss 460, 2 Troy Corser 342, 3 Haga 327, 4 C Checa 313, 5 Max Neukirchner 311, 6 Fonsi Nieto 256, 7 Biaggi 238, 8 Fabrizio 223, 9 Kiyonari 206, 10 Xaus 178, 11 Yukio Kagayama 154.


SUPERSTOCK 1000:

Young Belgian Xavi Simeon saw his title hopes vanish after a crash eight laps into the race today.

The crash happened because he chose the wrong front tyre and the almost dry track conditions wore it out after just three laps. Although he remounted and carried on, the fall dropped him from third to 13th place. He managed to pull back two more positions, but there were not enough laps remaining for him to move further up the leaderboard and secure sufficient points for the title. He had led the championship going into today's race but, in the end, he finished a disappointing fourth.

Aussie Brendan Roberts won today's final race of the championship and also took the title. Second today was Chris Seaton (Suzuki) with Maxime Berger (Honda) third and Michele Pirro (Yamaha) fourth.

Xavi Simeon - 11th:

"Today, I made a poor tyre choice and that cost me the title. Throughout the weekend, we never really had a totally dry track and this morning, there were definitely some damps spots on the track, so I went for a medium front tyre. Unfortunately it was destroyed after just three laps and all I could do was to try and keep close to Roberts. But after eight laps I Iost the front and crashed. I got back on the bike as soon as I could, but had dropped to 13th place with only four laps left in the race. Although I took another two places, there was not enough time to improve any further. I would like to congratulate Roberts on his victory and the title and also say a big thank you to my team for all the work they have done this year. I am sorry that the season didn't have the finish we were all hoping for."

Superstock 1000 Results: 1 Roberts (Aus-Ducati), 2 Seaton (Aus-Suzuki), 3 Berger (F-Honda), 4 Pirro (I-Yamaha), 5 Smrz (CZ-Honda), 6 Polita (I-Ducati). 11 Xavi Simeon (B-Alstare Suzuki).

Final Superstock 1000 Points Standings: 1 Roberts 147, 2 Berger 140, 3 Polita 137, 4 Xavi Simeon (B-Alstare Suzuki) 136, 5 Pirro 102, 6 Smrz 84.

WORLD SUPERSPORT:

After making a great start in the last race of the World Supersport season, RES Software Hoegee Suzuki rider Barry Veneman crashed on the ninth lap.

Team mate Didier Van Keymeulen had problems with his bike early in the race, but despite that he still scored a valuable championship point at the new track in Portimao.

Immediately after the start, Veneman showed he had the pace to score another podium finish. He started from third on the grid, and after just one lap he was leading. But after seven laps he dropped back to second place but he was fighting hard in a small group at the front. It was on the following lap that it all went wrong when he had dropped down to fourth. Trying to make up places, he had a huge high-side from which he was lucky to walk away uninjured, and so his podium chances were gone, but he finished the 2008 World Supersport season in eighth place.

Marc Hoegee - Team owner RES Software Hoegee Suzuki:

"We had a good weekend here in Portimao and it also seemed that we would finish this weekend with some success. Barry battled very hard and he gave his all but unfortunately the race was over for him. Didier had problems with his quick-shifter which made it impossible for him to ride at the front. I am sure that without this problem he would have made it into the top 10. However, we can all look back at a very good season and next year I am sure that we can continue at the same level or even higher. I would like to thank the whole team, the sponsors and all the fans because we wouldn't have got this far without them."

Barry Veneman:

"I had a good start, everything felt comfortable and I was looking forward to another podium. I was doing well and especially in the corners I had a lot of speed but on the straight I was losing out a little to the other riders. I think when I crashed, while in fourth position, I was just pushing too hard. I came out of a corner, gave it too much gas and then I had a high-side. It is a shame because I wanted to finish a good 2008 season on an even higher note."

Didier Van Keymeulen:

"Immediately after the start I picked up some places. The adjustments we made to the bike's suspension overnight worked well and I was feeling comfortable. Unfortunately I noticed on the second lap that I had problems with the gear change. On the hills especially it was hard to keep up a good pace because I was missing one of the ratios. I didn't want to stop because I saw that I was still able to finish 15th and happily I managed that and scored a hard-earned point."