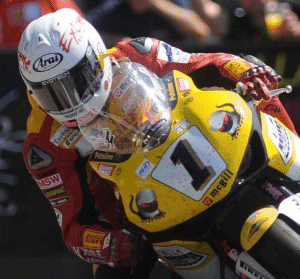 At last year's Macau Grand Prix, the now 27-year-old Kirmington rider was one of the favourites for victory when a practice smash saw him ruled out of the event due to a broken wrist meaning he has unfinished business on the 3.8 mile Guia street circuit.

Coupled with the disappointments of retiring when well in command of both the North West 200 Superbike race and Isle of Man Superbike TT during the summer, it means that Martin is aiming at nothing less than a win when the race gets underway on Saturday 15th November.

"A win and now't else will do!" exclaimed Martin in his blunt Lincolnshire tones. "We've not had too much success this year and after what happened there last year, I think I'm due some decent luck. We know we've got the pace and I'm desperate to round off the season in style so I know what I've got to do and you'd better believe it!"

For team owner Shaun Muir, he too is looking to round off the season in style: "I've felt so sorry for Guy this season what with the problems he has had to endure, which were not of his making so if anyone deserves to win, it must be him. The team also have done a great job and some success in Macau would go some way to making up for their disappointments also."

The SMR bike of Martin will be sporting a brand new colour scheme for sponsors Bike Animal as Muir explained: "Robert Williams of Bike Animal has been a fantastic sponsor this year who has given us great support so it's very appropriate for Guy to ride specifically in his colours at this race. We'd love to give him and his staff an early Christmas present and what better than rewarding him with a victory to add to Guy's Southern 100 and Scarborough Gold Cup successes."

Practice gets underway at 07.30 (local time - Macau is UCT/GMT + 8 hours) on Thursday 13th November with first qualifying at 15.25 the same day. Second qualifying takes place on Friday 14th November at 07.30 with warm up on Saturday 15th November at 07.30 followed by the 15-lap race at 15.15.

Up to date practice times will be posted after each session on www.bikeanimal.com and further information is available at www.macau.grandprix.gov.mo

Finally, to see the new team colours for Macau, log onto www.bikeanimal.com where the team photos from the Guia street circuit will be on display on 12th November 2008.