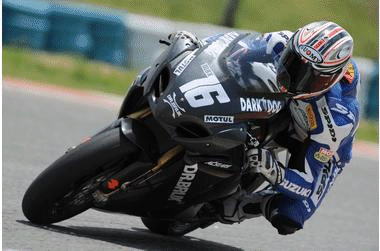 The final day was even hotter than the first and by early afternoon the track temperature had risen to over 50 C which caused grip problems. Most of today's fastest times were done either early in the day or right at the end of the session, when the track cooled off.

Italian Michel Fabrizio set the day's quickest lap with a time of 1:40.256 ahead of Neukirchner and Noriyuki Haga (Yamaha).






Max Neukirchner:

"Today was good because we've done a lot of good work and made good progress. This track is quite bumpy so we spent a lot of time making the bike ride as smoothly as possible. We started with the set-up from the last test in Phillip Island and just carried on from there. We tried quite a few different tyres and worked a lot on the chassis and, if I had not made a couple of small mistakes when I was using soft tyres, maybe I could've ended the quickest today."

Yukio Kagayama:

"We began with our Phillip Island set-up and then tried to improve the bike to work better on this bumpy track. I had a good feeling with the bike on race tyres, but when I tried a qualifier the feeling was not so good. The high altitude really affects the performance of the bike and it feels slow compared to Phillip Island and difficult to do a wheelie. It wasn't hard getting down to the 1:41s today, but it was hard getting into the 1:40s. We shall have to see what tomorrow brings, but if everything goes well, maybe we could get into the 1:39s."

Day 2 lap times (from FG Sport): 1. Fabrizio (Ita-Ducati) 1'40"256 (44 laps); 2. Neukirchner (Ger-Suzuki) 1'40"688 (50); 3. Haga (Jpn-Ducati) 1'40"709 (53); 4. Rea (GB-Honda) 1'40"842 (40); 5. Kagayama (Jpn-Suzuki) 1'40"959 (52); 6. Nakano (Jpn-Aprilia) 1'40"968 (42); 7. Checa (Spa-Honda) 1'40"995 (31); 8. Spies (USA-Yamaha) 1'41"049 (38); 9. Biaggi (Ita-Aprilia) 1'41"077 (56); 10. Kiyonari (Jpn-Honda) 1'41"412 (84); 11. Corser (Aus-BMW) 1'41"986 (34); 12. Xaus (Spa-BMW) 1'42"438 (40); 13. Sykes (GB-Yamaha) 1'42"933 (18).