Steve Plater third in Scunthorpe shorttrack
Author: As Reported in MCN
Posted on: Sunday, Dec 28 2008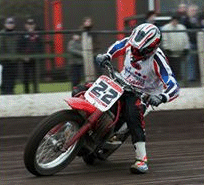 Plater borrowed a Honda CRF450 from event organiser and Cracker winner Pete Boast and won three of his qualifying races and was second in another before finishing third in the final.

Plater – sixth in last year's event - said: "What fun. I just love riding so any excuse to get out on a bike is good enough for me. Pete built the bike specially for me. It's lowered to work like a dirttrack bike should and has got R6 forks.

"We're lucky enough to have had spare wheels so we could fit the trails rear tyre and motocross front to suit the conditions. I tried the dirttrack tyres in practice but there was no grip at all. The conditions meant you had to concentrate like you were racing at the TT – you had to react instantly to every slide or you were down.

"I was hoping to at least finish second to Pete in the final (to make it Boast-entered bikes 1-2) but got pushed wide by Tim Greig (eventually runner-up) and just couldn't get back into it. I was struggling for grip in Turn Two and had too much in Turn Four – what's that all about?

Plater is one of the fittest men in UK road racing but found the demands of a 12-lap shorttrack final slightly different

"It tired me out fighting the bike. I could go and do a nine-mile run right now but on the bike I was knackered in the last few laps (of the 12-lap final)."

"But what mega fun. I'm going to make Boasty an offer for the bike and take it to Mablethorpe beach races now!"

Fellow road racers Karl Harris and Guy Martin didn't have so much luck. Their Flattrack Experience CCMs came with dirttrack-only tyres and, after trying in practice, both opted out of the racing due to a lack of grip. They both rode in the 150 X Trail Flattrack fun races.