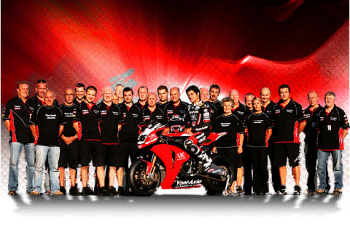 Having been awarded the official contract to run the works Kawasaki team in WSB, the PBM team is looking forward to the challenge ahead with riders Broc Parkes and Makoto Tamada, both of whom have plenty of World Championship experience.

The news that Vent Axia, the number one residential, commercial and industrial ventilation company and drinks giants Global Brands, through their Kick Energy brand, will once again be involved has delighted team owner Paul Bird who has become firm friends with both Kevin Sargeant of Vent Axia and Steve Perez who owns Global Brands.

It will be Vent Axia'a fifth consecutive year of association with Paul Bird's team and an amazing eight years that Global Brands have been involved with the multiple British Champions in such guises as VK Vodka Kick, Corky's and most recently, Kick Energy.

As well as branding within the World Superbike Championship, Bird will carry the decals of both Vent Axia and Kick Energy as part of his bid to win the 2009 MSA Pirelli Gravel Rally Championship. He last won the title in 2005 and is hoping to exchange his Subaru Impreza WRC S9 for the latest version of the Ford Focus WRC whereby he will be competing against Steve Perez!

"It's fantastic that we have the support and backing of both Vent Axia and Kick Energy once again as we move into an exciting new era for our team. We have always placed a big emphasis on loyalty within the team and it's great that our sponsors do likewise. Quite simply, I couldn't imagine our bikes or my car without their stickers on, they're part of the furniture! Hopefully, we'll have a great season all round and we can repay their continued faith in us."

The WSB team is testing at Portimao in Portugal later this month before the first round of the series takes place at Phillip Island in Australia on March 1st. Bird's bid for rallying honours kicks off with the Bournemouth-based Rallye Sunseeker on February 27th.