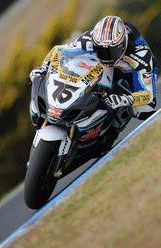 Conditions remained dry throughout and the team were able to try out a lot of different things and find good set-ups for both riders.

Neukirchner was the quickest rider on day one, but ended fifth fastest overall with Kagayama just behind him.

Max Neukirchner - (190 laps, best lap 1:32.5):

"My general feeling is that these two days went well and we've been able to find a good set-up for the bike for next weekend. We had some rear grip problems yesterday but managed to solve the problem today and make further progress. I think we are in a good way with the bike and feel positive about next weekend's race. Phillip Island is a very good track for testing because of its variety: It has fast corners, slow corners and changes of elevation. Everything we've done in these two days is going to be very helpful next week."

Yukio Kagayama - (171 laps, best lap 1:32.8):



"I'm happy, because I did not crash and many other riders did! I rode quite safely during these days because I knew there was a lot of work to do and I did not want to make any mistakes so close to the first race. We tried many things and many different set-ups and the biggest problem for me was the variations in tyre level performance. But we found a good set-up for next week's race and I hope I can start the season with a good result and keep up a good level throughout the year."

Overall best laps: 1 Rea (GB-Honda) 1:31.8, 2 Fabrizio (I-Ducati) 1:32.1, 3 Spies (USA-Yamaha), Haga (J-Ducati) 1:32.3, 5 Max Neukirchner (D-Suzuki Alstare) 1:32.5, 6 Yukio Kagayama (J-Suzuki Alstare) 1:32.8, 7 Corser (Aus-BMW) 1:32.9, 8 Sykes (GB-Yamaha) 1:33.0, Kiyonari (J-Honda) 1:33.1, 10 Xaus (E-BMW).