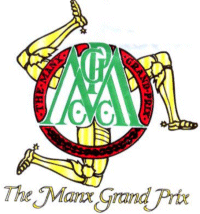 Such was their enthusiasm for the races and the Island itself, organiser of the trip, Jens Robdrup, revisited the Island towards the end of February, to finalise details for another visit during this year's Manx Grand Prix.

Jens, publisher and editor of Denmark's leading Classic magazine, Klassisk Bil & MC says there is immense interest in the Isle of Man and particularly the Manx Grand Prix in Denmark, so much so that he hopes to have a party of over 40 journalists with him this August-September for the races.

Whilst on the Island, Jens took time out to visit the Manx Motor Cycle Club's Office at the Grandstand with Terry Toohey, who was instrumental in organising last years visit and will be
involved in the programme of events for the visiting Danes during this years 'Manx'.