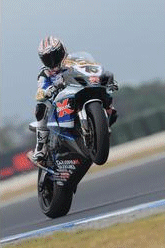 Just one second separated the top 15 riders at the end of this afternoon's qualifying session and Team Suzuki Alstare riders Max Neukirchner and Yukio Kagayama were well on the pace, finishing with the fourth and fifth fastest lap times respectively.

Jakob Smrz (Ducati) finished on the top of the standings today, with a lap of 1:32.312. Second is Noriyuki Haga (Ducati), with Leon Haslam (Honda) third.

Max Neukirchner - 1:32.673:

"My general feeling is that the afternoon went much better than the morning. We worked hard in the morning, but we didn't seem to make much improvement. In the afternoon we made some changes to the rear suspension and the bike improved. For me the grip level was better last weekend, but I am sure it will get better over the next two days."




Yukio Kagayama - 1:32.704:

"This afternoon it was not so good for me because I felt that the grip level was down compared to the morning, but that was probably because the track temperature was much higher. We started off with the settings from the test last weekend and just tried to fine tune the bike for the race on Sunday. We had some small gearbox problems this morning but solved them in the afternoon session. I think that the track temperature may have a significant effect on how the bikes behave and for me, it would be better if it would not be so hot on Sunday as it was this afternoon."


Friday qualifying: 1 Smrz (CZ-Ducati) 1:32.312, 2 Haga (J-Ducati) 1:32.569, 3 Haslam (GB-Honda) 1:32.623, 4 Max Neukirchner (D- Alstare Suzuki) 1:32.673, 5 Yukio Kagayama (J- Alstare Suzuki) 1:32.704, 6 Nakano (J-Aprilia) 1:32.928, 7 Fabrizio (I-Ducati) 1:32.932, 8 Spies (USA-Yamaha) 1:32.939, 9 Sykes (GB-Yamaha) 1:32.971, 10 Kiyonari (J-Honda) 1:32.991.