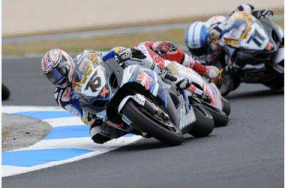 And, although both riders experienced grip problems in race two - with Neukirchner sixth and Kagayama eighth - Neukirchner left the circuit holding second place in the Championship.

Max Neukirchner - Race 1: 2nd, Race 2: 6th:

"I was very happy with the first race and thought I could win it after a big fight with Nori. But I made a little mistake on the last lap and that was enough for Nori to take the chequered flag and push me to second. But for me, second is a great start to the season and it is a good way to say thank you to my team for all the hard work over the winter. I had some problems with chatter in race two and also got caught up in a lot of traffic and found it not easy to get through it. I lost three seconds on the front group and that was too much to make up. The grip level seemed quite a bit down in race two and it was not possible to go any faster. If I had gone any quicker, I may have crashed and I didn't want that as Yukio and I have not had a single crash all weekend!"

Yukio Kagayama - Race 1: 3rd, Race 2: 8th:

"I am so happy to be on the podium again because the last time was a very long time ago - Brno in 2007. I am a racer and I like to win, so the first race was a good feeling for me. The bike was almost the same in race two, but the grip level was much different and I had some chattering and many slides. Also, I had a problem with my left boot and it was not so easy to use the shifter. If I didn't have that problem, I'm sure I could've caught and passed at least two riders in front of me. But it's a good feeling to be on the podium again and also good because I didn't crash this weekend."

Race 1: 1 Haga (J-Ducati), 2 Max Neukirchner (D-Suzuki Alstare Brux), 3 Kagayama (J-Suzuki Alstare Brux), 4 Fabrizio (I-Ducati), 5 Rea (GB-Honda), 6 Haslam (GB-Honda), 7 Laconi (F-Ducati), 8 Troy Corser (Aus-BMW), 9 Smrz (CZ-Ducati), 10 Sykes (GB-Yamaha).

Race 2: 1 Spies (USA-Yamaha), 2 Haga, 3 Haslam, 4 Laconi, 5 Fabrizio,
6 Max Neukirchner (D-Suzuki Alstare Brux), 7 Smrz, 8 Yukio Kagayama (J-Suzuki Alstare Brux), 9 Rea, 10 Sykes,

Points: 1 Haga 45, 2 Max Neukirchner (D-Suzuki Alstare Brux) 30, 3 Haslam 26, 4 Spies 25, 5 Yukio Kagayama (J-Suzuki Alstare Brux) 24, 6 Fabrizio 24, 7 Laconi 22, 8 Rea 18, 9 Smrz 12, 10 Sykes 12.