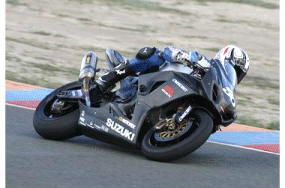 Following a shortened test at the Calafat circuit last month due to high winds, the team has been back in action, further developing the set-up of the bike while testing new factory components too.

With high winds hampering progress again at the end of day one and throughout the second, the team concentrated on practice starts and clutch settings before moving on to race set-ups on the final day.






Talking about the team's second test of the year, team manager Jack Valentine, commented: "We've had a really positive test here at Almeria. Despite suffering issues with the wind again, we made the most of the conditions to initially test our starts while working on clutch set-up before pushing on during day three to complete a further 115 laps at race speed. Once again we're leaving here with the feeling that we're ahead of the game. The set-up we've found is very close to what we'd run back in the UK and with our test at Guadix, we'll have the opportunity to try these new settings on a track similar to those that we compete on back at home."

With Guintoli at the circuit just a week earlier for the press launch of the GSX-R1000 production bike, the Frenchman was already dialled-in to the circuit and instantly concentrated on the job in-hand.

Said Guintoli: "It's been another encouraging test this week. Coming away from Calafat with a good base setting has allowed us to push on and test some of the new factory parts. The new K9 chassis certainly offers more rear-end grip over the 2008 bike I rode in the test last year and this, combined with the new engine spec that we've been running, is bringing together a really great package. The only element I need to get used to and exploit is the flex of the Superbike, compared to the stiffer MotoGP bikes I've ridden in the past."

The team now pack-up and move on to the Guadix circuit in Spain, ready for their next test tomorrow (Monday).