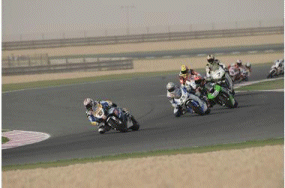 Neukirchner crashed heavily in this morning's warm-up, fortunately without injury, ran off the track twice in race one and then crashed out after five laps. But he recovered to take a tremendous sixth place in race two.

Kagayama was hit by another rider on lap two of race one and was forced into the huge gravel trap at the first turn. By the time he was able to rejoin the track, he had lost 30 seconds and was dead last. From then on, it was a lonely race for the Japanese rider but he kept going and finished 22nd at the flag. In race two, he had problems with the electronics and could not brake hard and steer the bike the way he wanted when fighting with a group of riders. But, just like race one, he kept going, battled hard and managed to bring home 15th place.

American Ben Spies (Yamaha) won the two 18-lap races today with Noriyuki Haga (Ducati) and Max Biaggi (Aprilia) taking second and third respectively in both.

Max Neukirchner - Race 1: DNF, Race 2: 6th:

"I think my result in race two was good. I know that I could not have got any higher and, after all my crashes this weekend, it was good to leave Qatar with a good finish. It has been a tough weekend for us. We made some mistakes and my crashes gave the team a lot of extra work to do. I want to say a big thank you to my team for doing all the work so quickly, but also to Yukio's mechanics who also helped us a lot.

"My day didn't start well because Troy Corser and I collided in the morning warm-up: It was on the brakes into turn one and I was lucky to escape without injury. In race one, I ran off the track twice because I missed my braking points and then crashed - probably because I was trying too hard. At least race two went well and I was happy to finish sixth after starting from 19th on the grid. We'll have to do better in practice, qualifying and Superpole in the future so that we don't have to start so low down the grid. I'm going to forget about this weekend and look forward to better things in the next round in Valencia."

Yukio Kagayama - Race 1: 22nd, Race 2: 15th:

"This was not such a good weekend for me and I know we have to improve for sure. In race one I was hit by another rider and forced off the track. I think I lost about 30 seconds and by the time I got back on the track, everybody had gone! The rest of the race was very lonely for me, but I wanted to complete the race so that I could give information and data to my team. All weekend I have not been so happy with my bike in the turns. I am not sure if the problem is electronics-related or what, but the bike is not braking as I want and it is not accelerating out of the turns like I want. It is probably to do with some adjustments so we must find out what is happening and then make the adjustments to improve the bike. I am disappointed with this weekend because I am a racer and I want to do well. I have had some good results in Qatar in the past, but this weekend is probably one I should forget."


Race 1: 1 Spies (USA-Yamaha), 2 Haga (J-Ducati), 3 Biaggi (I-Aprilia), 4 Nakano (J-Aprilia), 5 Checa (E-Honda), 6 Byrne (GB-Ducati), 7 Sykes (GB-Yamaha), 8 Kiyonari (J-Honda), 9 Corser (Aus-BMW), 10 Laconi (F-Ducati). 22 Yukio Kagayama (J-Suzuki Alstare Brux). Max Neukirchner (D-Suzuki Alstare Brux) DNF.

Race 2: 1 Spies, 2 Haga, 3 Biaggi, 4 Kiyonari, 5 Sykes, 6 Max Neukirchner (D-Suzuki Alstare Brux), 7 Nakano, 8 Rea (GB-Honda), 9 Corser, 10 Xaus. 15 Yukio Kagayama (J-Suzuki Alstare Brux).

Championship points: 1 Haga 85, 2 Spies 75, 3 Max Neukirchner (D-Suzuki Alstare Brux) 40, 4 Biaggi 38, 5 Haslam 36, 6 Sykes 32, 7 Laconi 30, 8 Rea 30, 9 Nakano 27, 10 Yukio Kagayama (J-Suzuki Alstare Brux) 25.