BUDGEN CLAIMS NEW ZEALAND SUPERBIKIE TITLE
Author: Suzuki Press Release
Posted on: Monday, Mar 16 2009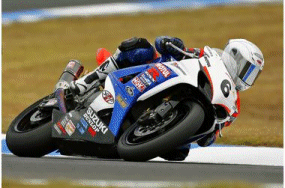 The Suzuki pilot first won the premier New Zealand motorcycle road-race crown in 2007, defended his title in 2008 and then dominated the 2009 championship, taking seven race wins from 10 starts.

Bugden won both Superbike races at the final Pukekohe round, the second race victory also earning him the New Zealand TT title. He finished the five-round, 10-race series a comfortable 29 points ahead of second placed rider, fellow Suzuki star Andrew Stroud.

Bugden (29) showed his appreciation for the New Zealand crowd vowing to return and race the Kiwi tracks again next year.

He said: "I love racing in New Zealand and I definitely want to come back and make it four title wins in 2010."

Bugden will now focus his attention on the 2009 Australian Superbike Championship where he will continue his association with Team Joe Rocket Suzuki riding a satellite GSX-R1000.