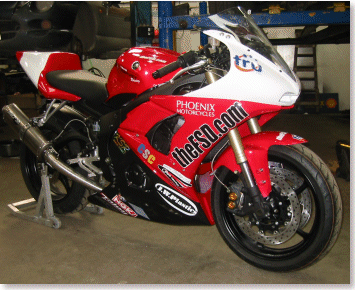 There will be a brief presentation by the team PR Manager and an intro to Scarborough by Tony Copeland, a free buffet, an early free bar and a raffle of some sort with all proceeds going to The TT Supporters Club, Kick off will be 7PM, everyone welcome.

Anyone who is interested in attending drop me an email mph.Harvey@tesco.net

Team Harvey Racing was established in 1991 and has traditionally consisted of Phil Harvey on the 125cc GP machines and his father Mick Harvey on the F2 Super Sidecars, both riders have struggled for many a year with very little financial backing with Phil being able to subsidise his racing by manufacturing knee sliders, which he still does see; www.slidez.co.uk and www.kneeslidez.com but with the additional financial support of theFSD.com the team have been able to offer Phil a 600cc Yamaha R6 to run along side his 125cc machine.

The plan for the team is for Phil to contend all the major real road racing events on the 600 and 125 machines, these will include the three Scarborough events, the Isle of Man TT and the Ulster GP along with many of the Irish road races and Aberdare.

Mick Harvey and passenger Fiona Baker plan to contest the ACU/FSRA Super Sidecar Championship along with the infamous Isle of Man TT Races on a Suzuki powered Shelbourne outfit.

theFSD.com motorcycle racing team is the banner in which team Harvey racing www.teamharveyracing.com will be running under for the 2005 real road racing season. theFSD.com are an Internet based Financial Services Directory who can offer a whole range of financial service contacts at the click of a mouse, try them out on www.theFSD.com and click sponsored links.



The team will also have its long standing support of the TRU GROUP www.trugroup.co.uk as both sponsor and key members of the race team with Kev the MD of the TRU GROUP also working long hours as mechanic, the TRU GROUP is split into three divisions, firstly TRUPAK who supply mouse mats, keyboards and a host of lap top accessories. Secondly TRU SEAL which manufacturer lorry container security tags and finally TRU PLASTICS, which is the plastic injection moulding division.