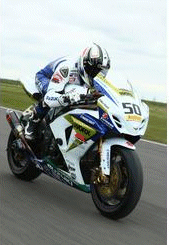 Led by the incomparable Jack Valentine this is a highly professional, factory-backed team boasting some of the most experienced technicians in the BSB paddock. And coming off the 2008 season - where, with Tom Sykes, the team enjoyed three wins and no less than 11 podiums - it's evident the team knows what it takes to keep a bike and rider at the head of the pack.

New to the team this season is their sole rider, the rapid Leicestershire-based Frenchman Sylvain Guintoli. An escapee of the MotoGP paddock, Guintoli's speed is to be respected. This may be his first ever season in a production-based class but he's already shown in testing that he can lap as fast as, if not faster than many in the BSB paddock.

Also new is the 2009 Suzuki GSX-R1000: Featuring an all-new chassis and motor, the team has subjected the new GSX-R to no less than nine days of winter testing on three tracks in Spain with Guintoli notching up enough laps to equal at least five BSB races each day. The test results have also been extremely encouraging.

Sylvain Guintoli:

"I am really ready for Brands Hatch and the first races of the season. I have been prepared for my debut since we completed the last test in Spain and I know that the Worx Crescent Suzuki is well prepared for this weekend. We have a good base setting and with the extra day of testing on Good Friday we will be able to get out on circuit and make some small adjustments to the settings ahead of the races. I am feeling confident and we need to get a good start and then go from there."

Jack Valentine - Team Manager:

"Obviously with the economic climate over the winter there has been a focus on cutbacks; for us and throughout the BSB paddock, and no question we're a physically-smaller team this year. But I'm very happy with the team we have and I'm happy to say we've maintained the budgets where they count. We completed as thorough-a-programme-of-testing this winter as we ever have, and, so while we have a brand new bike, I'm very confident that already we have a competitive package. There's still work to do, but from a team point of view we're well set-up and ready.

"With a competitive bike and with a rider in Sylvain, who's both genuinely fired-up and willing to do the hard work, we're looking forward to a good performance at Brands. Two podium finishes and a bagful of points would make us very happy."