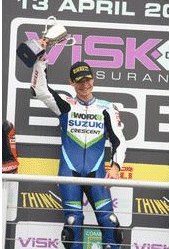 But the BSB debutant didn't have the racing go all his own way in this the first round of the Championship: In race one Guintoli's wheelie off the start put him back in seventh place into turn one. He then pushed hard through the early stages of the race to make back the places and took over the lead on lap 16. Honda's Glen Richards shadowed Guintoli for the rest of the race and while, at three-quarter distance, Richards was able to close to barely 0.3-seconds, for the last quarter of the race Guintoli was able to maintain his blistering pace while his challenger faded.

While Guintoli made a better start in the second race, a little bumping in the first corner saw him placed fifth after one lap. The racing was rather more frenetic second time around and in a crucial early development Guintoli was first passed by rival Leon Camier and then found himself caught behind Karl Harris. In the three laps Guintoli took to fight past Harris, he lost over a second and a half to Camier. Finally past Harris, he mounted a race-long fight to regain positions. Typically pulling back two-tenths-of-a-second each lap on his rivals, Guintoli took second from Steve Plater on lap 27. The remaining three laps were not enough to close the gap to Camier in the lead.

Guintoli's 1-2 result to Camier's 4-1 affords him a seven-point advantage at the head of the championship as the BSB paddock heads north to the second round of the BSB championship at Oulton Park on May 2-4.

Sylvain Guintoli:

Race 1: "It was my mistake at the start, the front came up and I had to shut it down to control it. But after that, it was okay, I knew the tyres would be good for the first half of the race so I got on with making the passes - it is quite a difficult circuit to pass on, so you have to be calculating. After that I was able to control the lead. When Glen did close on me I picked up the pace a little bit and we were fine."

Race 2: "I made a better start, but I just didn't feel that I had the same grip as in the first race. Maybe I was overdoing it a bit; I had to work hard to make the passes. When Leon passed me I could see he was in a good rhythm and I wasn't finding my rhythm as quickly - and I knew I didn't want him to get away. The Honda riders weren't so easy to pass; they ran so deep into the corners and so I overshot a couple of times trying to make the passes - good for the TV but not so good for us.

"But I am very happy. This weekend we took pole position and we took a win and a second and so have the championship lead. I came here expecting to be fighting at the front but what's happened has been really good."

Jack Valentine - Team manager:

"We're very pleased with how the bike is performing. Obviously it starts moving around a bit toward the end of the race - particularly as Sylvain has had to use his tyres up in the early laps to make the passes - but we've been very happy with the set-up, which was identical for both races.

"I was impressed with how Sylvain controlled the first race; when Glen started to catch him he responded in a considered way, there's no sense of panic with him.

"In the early stages of that second race there was quite a bit of sparring going on with the Honda riders and we could see he was being held up. But you could see Sylvain's quality shine through when he got a clear track, being smooth and not so aggressive on the bike, he was pulling in the leaders. He just needed more laps!

"In the end it was a proper welcome to BSB for Sylvain; he's come out on top but he's also gained an understanding that the BSB riders won't take any messing about and I'll think he'll come back at the next round all the stronger for it."


Race 1: (30 laps): 1 Sylvain Guintoli, Worx Crescent Suzuki, 24:27.117; 2 Glen Richards, HM Honda, +0.952; 3 Stuart Easton, Hydrex Honda, +3.086; 4 Leon Camier, Airwaves Yamaha, +7.007; 5 James Ellison, Airwaves Yamaha, +7.814; 6 Gary Mason, Quay Garage Honda, +8.505; 7 Simon Andrews, MSS Colchester Kawasaki, +9.359; 8 Jason O'Halloran, SMT Honda, +9.639; 9 Graeme Gowland, Motorpoint/Henderson Yamaha, +10.549; 10 Tristan Palmer, Buildbase Kawasaki, +16.181.

Race 2: (30 laps): 1 Leon Camier, Airwaves Yamaha, 23:25.330; 2 Sylvain Guintoli, Worx Crescent Suzuki, +2.319; 3 Steve Plater, HM Plant Honda, +3.347; 4 Stuart Easton, Hydrex Honda, +3.772; 5 Glen Richards, HM Plant Honda, +3.915; 6 Karl Harris, Hydrex Honda, +11.121; 7 James Ellison, Airwaves Yamaha, +11.531; 8 Chris Walker, Motorpoint/Henderson Yamaha, +11.826; 9 Gary Mason, Quay Garage Honda, +12.968; 10 Julien Da Costa, MSS Colchester Kawasaki, +14.641.

Championship points (after one round): 1 Sylvain Guintoli, Worx Crescent Suzuki, 45, 2 Leon Camier 38, 3 Glen Richards 31, 4 Stuart Easton 29, 5 James Ellison 20, 6 Gary Mason 17, 7 Steve Plater 16, 8 Simon Andrews 14, 9 Jason O'Halloran 12, 10 Julien Da Costa 11.