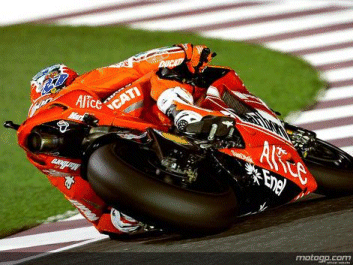 Stoner has set his sights on a stronger start to his 2009 season to that made in 2008, and thus far things appear to be going according to plan. Motegi represents something of an unknown for the new 'big red bike', however, and the Australian is assured but cautious in his approach to the Polini Grand Prix of Japan.

"We haven't tested here in preseason whereas we had in Qatar, so we'll see how we get on starting from zero, with less practice time available. I'm fairly confident, the set-up we found in testing has worked well at different kinds of circuits so we should have a decent base setting to work from at Motegi," states Stoner. "In any case, we won't take anything for granted - we'll keep working hard together and stay focused."

Early signs show that reigning titlist Valentino Rossi will be the key man for Stoner to beat in 2009, although there has been no ruling out of any rider yet by the Ducati Marlboro man.

"At this stage Valentino has been the hardest rival in testing and we know that Valentino will always be there, but people should always expect the unexpected," he warns. "You don't know what other riders are capable of, so we will see how the beginning of the season goes during the first few races and understand who is going to be competitive and who is not, and then focus on the toughest challenger."

Stoner's second place at last year's Japanese round was his first podium in the premier class at Twin Ring Motegi.




Polini Grand Prix - Motegi on 26 April 2009.