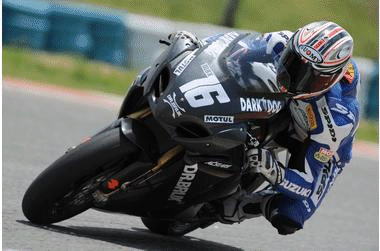 He was the fastest rider in Superpole 1, nearly four-tenths-of-a-second ahead of his nearest rival, but lapped two-tenths slower in Superpole 2 and eventually managed the sixth in Superpole 3.

Yukio Kagayama suffered a crash in the free practice and had to use his number two bike in Superpole. The number two bike was set up slightly differently and he was unable to qualify for Superpole 3 despite turning in a lap of 1:38.288 - a time that would've qualified him just off the front row.

American Ben Spies (Yamaha) continued his run of good form by taking pole position with Jakub Smrz (Ducati) second, Leon Haslam (Honda) third and Noriyuki Haga (Ducati) fourth.

Max Neukirchner - 6th, 1:38.353:

"I think we are in good shape on race tyres and although the bike is not 100 per cent, it's quite good. We've improved the bike since the last round in Valencia and if we can improve it a bit more, maybe we'd be able to risk using race rubber in Superpole 1 and keep our two qualifying tyres for Superpole 2 and 3. I had no big problems today, but we'll try a little suspension change in the morning warm-up tomorrow and see if we can improve the bike. The track felt better today and I was also able to do some good practice starts so I am pretty confident of being up with the leaders at the beginning. The start is important here because otherwise you get held up round the first three or so turns."

Yukio Kagayama - 9th, 1:38.288:

"This new Superpole system is a bit funny really because I went faster than Max, but he's on the second row of the grid and I am on the third! I was hoping to keep my position on the front row of the grid but I crashed my number one bike in the free practice and had to use my number two bike in Superpole qualifying. It was set up a bit differently and I could not lap as confidently with it as my number one bike. There was no time to change the number two bike to the same settings as the number one bike, but we can do this OK for tomorrow. I am not sure why I crashed this afternoon: It was very sudden and I had no warning at all. My engineers will look at the data and then tell me if there was a problem or not. Fortunately I was not hurt at all, so I am in good condition for the races tomorrow. I need a podium!"

WSB Qualifying: 1 Spies (USA-Yamaha) 1:37.628, 2 Smrz (CZ-Ducati) 1:37.765, 3 Haslam (GB-Honda) 1:38.072, 4 Haga (J-Ducati) 1:38.202, 5 Fabrizio (I-Ducati) 1:38.215, 6 Max Neukirchner (D-Suzuki Alstare Brux) 1:38.353. 9 Yukio Kagayama (J-Suzuki Alstare Brux) 1:38.288.

SUPERSTOCK 1000:

Team Suzuki Alstare Brux rider Claudio Corti suffered some minor problems in qualifying today, but still managed to qualify on the front row of the grid for tomorrow's 13 lap race.

But he and the team know what to do to improve the bike and will make the changes in the warm-up tomorrow morning and be ready for the race.

Claudio Corti - 4th, 1:42.199:

"We had a small problem with the front fork and I wasn't able to push as hard as I wanted to, but as long as I am on the front row, I think it is OK. It was quite windy out there today and it was a bit tricky going into the chicane at the end of the back straight, so I decided to stay steady and not do anything crazy. It's very important to get a good start and be in the front group here otherwise it's easy to get held up in the first three or four corners. My plan is to make a good start and leave the rest to hold each other up."


Final Superstock 1000 qualifying: 1 Berger (F-Honda) 1:41.108, 2 Giugliano (I-MV) 1:41.638, 3 Barrier (F-Yamaha) 1:41.988, 4 Claudio Corti (I-Suzuki Alstare Brux) 1:42.199, 5 Baz (F-Yamaha) 1:42.368, 6 Burrell (GB-Honda) 1:42.446.