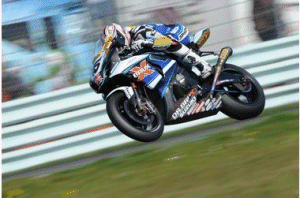 Earlier in the day, he crashed on lap seven, whilst in sixth position, but remounted and got back into the race, fighting his way up through the field to finish 13th. In race two, he used the same bike and tyres, but the bike was harder to ride, but he still kept attacking and ended the race in ninth position.

Team mate Yukio Kagayama also endured a tough Assen time: He crashed on lap two of race one and was unable to get back on his bike. And in race two, he suffered problems, but still managed to finish 12th.


Max Neukirchner - Race 1: 13th, Race 2: 9th:

"Race one was good until the crash of course! The chassis was not quite 100 per cent perfect, but I really wanted to get a good result so I was pushing quite hard. I lost the front in the chicane before the start-finish straight and although I got back on the bike and started again, I was down in 22nd place. I decided to keep going and fight for some points and I managed to end up 13th and get a few points, so I think the effort was worth it. We used the same bike and the same type of tyres for the second race, but the bike didn't work as well. It was harder to ride and more difficult to brake late. It was also not so easy in the turns and so I found it a bit frustrating, but I am only five points behind Fabrizio in the standings, so I know that I can improve a lot."


Yukio Kagayama - Race 1: DNF, Race 2: 12th:

"I am not sure why I crashed in race one because it seemed to be a bit of a strange crash. Normally you lose the front end - on the brakes - going into turns, but this time I was exiting the turn and just getting on the gas when the front just suddenly went without any warning. I wasn't hurt, but I was a bit angry.

"In race two, I used the same bike and same tyres, but found it hard getting the bike to stop. It's possible that there was a small problem with the clutch, but we will not know for sure until we get back to the workshops and look inside the engine after seeing all the data. I kept going and had the chance to pass Xaus on the last corner but there were yellow flags out, so I could not make my move. I am hoping for better things in Monza because I need some good results."



Superbike Results:

Race 1: 1 Spies (USA-Yamaha), 2 Haga (J-Ducati), 3 Haslam (GB-Honda), 4 Sykes (GB-Yamaha), 5 Biaggi (I-Aprilia), 6 Smrz (CZ-Ducati). 13 Max Neukirchner (D-Suzuki Alstare Brux). Yukio Kagayama (J-Suzuki Alstare Brux) DNF.

Race 2: 1 Haga, 2 Haslam, 3 Smrz, 4 Fabrizio (I-Ducati), 5 Rea (GB-Honda), 6 Sykes. 9 Max Neukirchner (D-Suzuki Alstare Brux). 12 Yukio Kagayama (J-Suzuki Alstare Brux).


World Superbike Points: 1 Haga 180, 2 Spies 120, 3 Haslam 94, 4 Fabrizio 80, 5 Max Neukirchner (D-Suzuki Alstare Brux) 75, 6 Sykes 70. 12 Yukio Kagayama (J-Suzuki Alstare Brux) 39.



SUPERSTOCK 1000:

Team Suzuki Alstare Brux rider Claudio Corti suffered front end problems in the second round of the Superstock 1000 FIM Cup at Assen today, but took a hard-fought-for fifth place at the end of the 13-lap race.

He had experienced some suspension problems in qualifying and he and the team tried a different set-up in this morning's warm-up. But the feeling was not better, so they team reverted to the previous settings. It was a tough race for the young Italian, but he kept his head and took fifth place.

Maxime Berger (Honda) won the race with Xavi Simeon (Ducati) second and Sylvain Barrier (Yamaha) third.

Claudio Corti - 5th:

"I didn't have a good feeling with the bike and so couldn't push as hard as I would've liked. I didn't want to crash, so I rode steadily and collected as many points as I could. With a bit of luck, I might have even got higher up the order, but in the end it was not to be. Anyway, the next round is at one of my home tracks - Monza - and I am looking forward to putting on a good show there in front of all my fans. I am sure I can get a podium there and I will be trying my best to do so. The points are very close at the moment, so I know I have a good chance in the races to come."


Superstock 1000 Results: 1 Berger (F-Honda), 2 Simeon (B-Ducati), 3 Barrier (F-Yamaha), 4 Fores (E-Kawasaki), 5 Claudio Corti (I-Suzuki Alstare Brux), 6 Baz (F-Yamaha).

Superstock Points: 1 Berger 41, 2 Simeon 40, 3 Claudio Corti (I-Suzuki Alstare Brux) 36, 4 Fores 26, 5 Burrell 18, 6 Barrier 16.