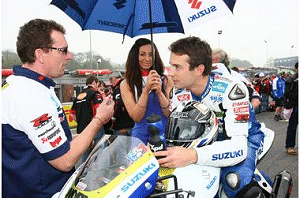 The Cheshire circuit, set in the country park grounds of the old Oulton Hall, which was destroyed in a fire many years ago, is world-renowned for its technical difficulty with rapidly changing gradients and blind crests leading into unforgiving corners.

Is the Frenchman ready for the challenge?

"I've ridden nothing like this track before and for some of the corners I think I'll have to close my eyes for a second! I've been around it in a car and after Brands we came here and I rode about 40 laps on a track day. I couldn't do proper lap times because of the traffic but I got a good idea of the corners and it really is a very nice track.

"It'll be tough, but there is no reason why we shouldn't do well here. The team scored a double win here last year, so it suits the bike - and this year's GSX-R1000 is even better."

Team manager Jack Valentine confirms that technically the team are 100% ready.

"The bike has shown through testing, and at Brands, that its base set-up is very good - it's worked on every track we've been to. For this weekend we expect to make only small changes to the settings to ensure Sylvain gets the best balance and feel with the bike. With this being a long 2.6-mile course we'll make gearing changes too.

"We won't be pressuring Sylvain, though. It's a long weekend and with Sylvain being new here we'll look for a progressive improvement in lap times - top 10 will be fine to start with, but we'll expect to be at the front by the races."