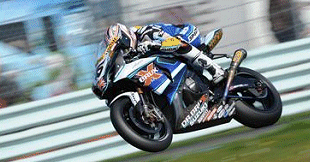 His win in the first race was the first by a German rider in the 21-year history of the series and was followed by runner-up spot in race two.

Team mate Yukio Kagayama had a mixed day last year, taking fourth in race one and a DNF in race two, so is hoping for an improvement this time round.




Max Neukirchner:

"Last year was a wonderful occasion for me and I will never forget my first win in World Superbikes. They always say that the first win is the hardest and really I should have got it in Valencia when I was on the way to victory when I go knocked off within sight of the chequered flag. It's important to have a fast bike at Monza and know how to play the slipstreaming game. It's easy to be at the front of the pack and lose out on the draft and get beaten to the flag, so it's something you have to watch out for. I like fast tracks and I think our bike will be well-suited to Monza. For sure, my intention is to finish on the podium in both races and if I can repeat my win of last year, I would be very happy."

Yukio Kagayama:

"My season has been a bit up and down and this does not make me so happy so far. I have a good bike and know my results should be a lot better. Sometimes the bike is not so easy because some little changes can produce big effects - and not always in the right direction. But my job is to race, so I and the team have to find ways of making the bike work better so that I can challenge for the podium again. This is what I want, and I will do my best to try and achieve it."

2008 results:

Race 1: 1 Max Neukirchner (D-Alstare Suzuki), 2 Haga (J-Yamaha), 3 Bayliss (Aus-Ducati), 4 Yukio Kagayama (J-Suzuki Alstare), 5 Fonsi Nieto (E-Suzuki Alstare).

Race 2: 1 Haga, 2 Max Neukirchner (D-Alstare Suzuki), 3 Kiyonari (J-Honda), 4 Fonsi Nieto (E-Suzuki Alstare). Yukio Kagayama (J-Suzuki Alstare) DNF.