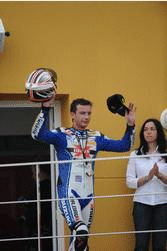 Neither Neukirchner nor Kagayama were completely happy after the first qualifying, but both are confident of big improvements tomorrow.

Michel Fabrizio (Ducati) set the day's fastest time with a lap of 1:45.44, over a second inside the lap record. Second today was Tom Sykes (Yamaha) with Noriyuki Haga (Ducati) third and Jonathan Rea (Honda) fourth.

Max Neukirchner - 5th, 1:45.962:

"I think many people forget that our bike is a completely new bike this year, but every time we go out, we improve it a little. The track grip level seemed better when we tested than today, but that also might be because there was a lot of rain here on Wednesday. At the moment we're not so far away from a good set-up, though of course we are always looking for the best. Today I could not get on the gas exiting the turns as fast as I wanted to, so we will try and improve that tomorrow. Here, it's important to be on the first two rows of the grid and that is what I will be chasing in qualifying and Superpole.

Yukio Kagayama - 6th, 1:45.985:

My race weekend Fridays are usually not so bad, but what is important is what happens on Saturdays and Sundays! I began today with the set-up we found when we tested here a month ago and it was not so bad, except that today I had more problems with rear grip. Also, we need to improve the braking to make sure that I can brake hard and then get on the gas quickly. Monza is a fast track and I like this kind of a circuit, so I will be going very hard for good results on Sunday.


Friday WSB qualifying: 1 Fabrizio (I-Ducati) 1:45.447, 2 Sykes (GB-Yamaha) 1:45.758, 3 Haga (J-Ducati) 1:45.790, 4 Rea (GB-Honda) 1:45.919, 5 Max Neukirchner (D-Suzuki Alstare Brux) 1:45.962, 6 Yukio Kagayama (J-Suzuki Alstare Brux) 1:45.985.


SUPERSTOCK 1000:

Team Suzuki Alstare Brux rider Claudio Corti ended the first day's practice at Monza with the fourth quickest time despite not pushing hard.

Xavi Simeon (Ducati) finished the session with the quickest lap, with Dominico Colucci (Ducati) second and Loris Baz (Yamaha) third.

Claudio Corti - 4th, 1:50.136:

"I think today was quite a good day and fourth fastest is perfectly OK considering that I felt that the track was a bit dirty so I didn't push very hard. We tried some new suspension today but I didn't feel the bike was any better, so I think that we'll go back to the older stuff tomorrow. Monza is a track where it is important to have a fast bike and where slipstreaming can play a vital part. But my intention on Sunday is to be out in front and not have to worry about slipstreaming at all. Hopefully my plans will work out.


Friday Superstock 1000 results: 1 Simeon (B-Ducati) 1:49.522, 2 Colucci (I-Ducati) 1:50.127, 3 Baz (F-Yamaha) 1:50.128, 4 Claudio Corti (I-Suzuki Alstare Brux) 1:50.136, 5 Berger (F-Honda) 1:50.311, 6 Fores (E-Kawasaki) 1:50.400.