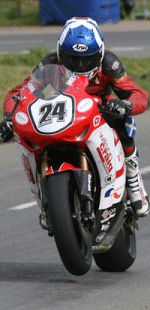 and to add to his tally, a brace of 2nd places in the Supersport 600 race and the first Superbike race at the County Armagh location in N.Ireland.

Falkirk rider Amor on his Wilson-Craig Honda's was under constant pressure during the races from regulars Ryan Farquhar and Michel Dunlop, only losing out in the final seconds to drop back to 2nd in two of the races.

After the races, Amor:

"In the final big bike race I was determined to get the win and me and Ryan (Farquhar) had another great battle but, on this occasion, I was able to hold him off for a good win. It's been a great shakedown for the North West 200 and I'm feeling really good about everything heading in to the meeting. Wilson and all my sponsors have given me terrific support and a great package for 2009 so I'm feeling really confident that I can reward them with some good results at the International races."


LeoVince exhaust sponsors, Moto.GB UK Distribution:

"Yet another set of great results from this ace rider, a win and two 2nds. Keith is a real natural on the road race events, and for those that can't attend the events, remember BBC Sport are covering all the main events via their BBC I-player, watch it and be impressed with his talent."


Keith's next outing will be at the International North West 200, which takes place on the 8.9-mile circuit linking the towns of Portstewart, Coleraine and Portrush between May 12-16.


pic by Robert Burrows.