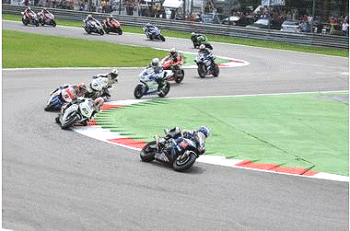 He was in the lead going into the chicane but was hit by another bike that had crashed a few metres or so behind. The impact forced him onto the grass and it was obvious straight away that he was in considerable pain.

Brendan Roberts and his bike were also involved in the crash and both riders had to receive attention for some time trackside. The race was red-flagged almost at once and six bikes were taken on trucks back to the pits.






After a long delay, the race was restarted and team mate Yukio Kagayama rode fantastically to take a well-earned fourth place. In race two, he was given a ride-through penalty and was dead last when he rejoined the race after five laps. Despite some vibration from his bike, he kept going, only to finish out of the points in 17th place.

Michel Fabrizio (Ducati) won the first race, much to the delight of the home fans with team mate Noriyuki Haga second and Ryuichi Kiyonari third.


Yukio Kagayama - Race 1: 4th, Race 2: 17th:

"I made not so bad a start and was fourth after lap one and trying to stay with the top group. I was having problems with Biaggi, because although I could close in on him on the brakes, his bike would always accelerate better than mine out of the turns. After 12 laps or so, my tyre was nearly at the limit and the grip level was not good. I just kept pushing as hard as I could without taking any big risks and managed fourth place.

"In race two, I made a good start but my bike was vibrating a bit. Then I got a ride-through penalty and was last. It was difficult catching up again - especially as my bike was still vibrating - but I managed to overtake some riders and get 17th. I'm not so happy today because I thought my results would be a lot better. I cannot fault my mechanics because they have worked very well and we found a good feeling with the bike which makes me feel very positive for the next race. So thank you to my staff."


WSB Results:

Race 1: 1 Fabrizio (I-Ducati), 2 Haga (J-Ducati), 3 Kiyonari (J-Honda), 4 Kagayama (J-Suzuki Alstare Brux), 5 Rea (GB-Honda), 6 Sykes (GB-Yamaha). Max Neukirchner (D-Suzuki Alstare Brux) DNF.

Race 2: 1 Spies (USA-Yamaha), 2 Fabrizio, 3 Kiyonari, 4 Rea, 5 Biaggi (I-Aprilia), 6 Sykes. 17 Yukio Kagayama (J-Suzuki Alstare Brux). Max Neukirchner (D-Suzuki Alstare Brux) DNS.

World Championship Points: 1 Haga 200, 2 Spies 146, 3 Fabrizio 125, 4 Haslam 103, 5 Sykes 90, 6 Biaggi 81. 9 Max Neukirchner (D-Suzuki Alstare Brux) 75. 13 Yukio Kagayama (J-Suzuki Alstare Brux) 52.


SUPERSTOCK 1000:

Team Suzuki Alstare Brux rider Claudio Corti delighted his home fans and supporters by taking victory in the third round of the Superstock 1000 FIM Cup in Monza.

The Italian swapped the lead several times in an exciting battle with former Alstare rider Xavi Simeon (Ducati) but went ahead in the Parabolica on the last lap. He then charged to the flag and finished the victor by one 100th of a second.

Claudio Corti - 1st:

"I really enjoyed that race and it was fantastic to take such a victory in front of so many of my own fans. Many had travelled from my home town of Como and I guess their trip was worthwhile! My bike worked very well today and I want to thank my mechanics for all the good work they did. I always felt that this race would be very tactical, so I had an idea when to make my move. It all turned out just the way I wanted and now I want to continue getting podiums and victories throughout the rest of the season."

Superstock 1000 Results: 1 Claudio Corti (I-Suzuki Alstare Brux), 2 Simeon (B-Ducati), 3 Fores (E-Kawasaki), 4 Beretta (I-Ducati), 5 Barrier (F-Yamaha), 6 Jezek (CZ-Honda).


Championship Points: 1 Claudio Corti (I-Suzuki Alstare Brux) 61, 2 Simeon (B-Ducati) 60, 3 Fores 42, 4 Berger 41, 5 Beretta 28, 6 Barrier 27.