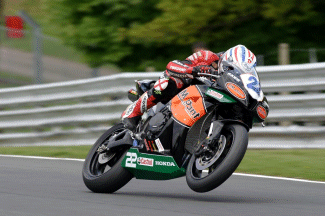 Plater, though is never happy to sit back and savour his achievements for too long and is intent on going one better next weekend by completing a clean sweep of each of the races he has entered to score an unprecedented quadruple in Portstewart.

And he also wants to smash his current Superbike lap record into the bargain!

With the full support of the British Superbike HM Plant Honda team behind him, there is every chance Plater can achieve his objectives, but first he'll have to ward off the determined challenge of his team-mate and last year's pole-sitter, John McGuinness, plus a plethora of top class international road racers equally determined and capable of taking the chequered flag on May 16.

"I got three wins out of four races last year but I wanted a clean sweep of them all, and that's what I'm after this time," said Plater.

"I've said before I race to win and I want to win every race that I'm entered in. The North West is an event that is close to my heart and I've had success here, but I'm still hungry for more.

"I don't just want to win, I want the lap record again as well. I've got one of the best bikes in the paddock and the rest is up to me.

"It's nice to be back in a factory team and even more so with Honda after five years. It was pretty flattering to get the call from them to be honest, especially as I've been trying to rebuild my career over the last number of years." Plater – who was rewarded with his maiden victory at the Isle of Man TT in 2008 in the Supersport class – has a formidable team-mate in the form of 14 times TT winner McGuinness and like every racer, he wants to beat the man who is sharing his team garage.

"Everybody knows you want to beat your team-mate and John is a hard rider, but I've got to beat him just like I've got to beat everybody else if I want to win," he said.

Plater was among the special guests in attendance last night at a reception to mark the 80th anniversary of the North West 200 hosted by Sports Minister Gregory Campbell at Stormont.

Former North West 200 star Mick Grant, who won five races in the 500cc and Superbike classes in the seventies and early eighties, was also invited to last night's bash by the organisers.

Mervyn Whyte MBE, NW200 Clerk of Course, said: "The North West 200 organising team is indebted to the Minister, Gregory Campbell and his staff for all their support both in terms of cash funding and strategic advice.

"It's been an excellent partnership with DCAL and we really do appreciate their contribution to the event.

With their support we have certainly made huge strides creating a bigger and even more professional sporting spectacular."

DCAL awarded £175,000, spread over three years, to enable the appointment of a Business and Operations Manager at the North West and to fund the development of an excellent new website, which can be viewed at www.northwest200.org.

The Minister paid tribute to the achievements of two of Ulster's most famous sons, Robert and Joey Dunlop, who remain the most successful riders in the history of the North West 200 with 15 and 13 victories respectively.

"This event attracts the cream of current road racers such as John McGuinness, Michael Rutter and Steve Plater, to name a few, and previous racers such as Mick Grant who raced to glory in the early seventies," Mr Campbell said.

"I would also like to pay tribute to two of the most successful riders in North West 200 history, Joey and Robert Dunlop...and I wish William and Michael Dunlop every success with their races this year."

The first competitors are expected to arrive in the paddock this weekend. Roads are due to close at 5pm sharp on Tuesday, re-opening at 9.30pm, for the first practice session. Final qualifying will be held on Thursday, with similar roads closing/opening times in operation.

Next Saturday, May 16, roads will be closed from 10am-6.45pm, with the first of seven races expected underway at approximately 11am.