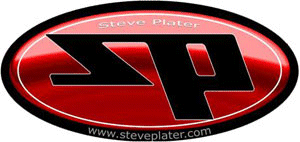 The weather played its part in qualifying with Tuesday evening practice run in dry, sunny conditions and times set in that session determining the grid for Saturdays races. Thursday's practice started off damp but the rain soon disrupted the evening and times were considerably slower. Eventually because of the wet conditions and fading light the final Supersport session was cancelled, leaving one or two familiar faces without a time, and giving officials the difficult task of slotting them onto the grid for the start of the race.

Tuesday wasn't all smooth sailing for Plater as, although securing the second fastest time in the Supersport class, he had to make an unscheduled stop at Trolans Petrol Station in Portstewart during his final lap of the course. He had run out of fuel and had to borrow the cash from the course incident officer John Blair in order to fill up and continue on his way back to the paddock!!

"I missed my pit board and didn't realise how low I was on fuel," said the ever-smiling Woodhall Spa rider. "Luckily I was able to top up at the filling station in order to get back to the pits!"

A thumb operated rear brake has been fitted to Plater's HM Plant Honda machines in order to help with braking and keep the front wheel down when negotiating the high speed straights.

He explained: "We are travelling at speeds in excess of 190 mile an hour at times and the front end can easily lift in those conditions. A lot of riders are doing the same and it does seem to work well for us."

Plater holds the lap record in both the Superbike and Supersport classes at the North West 200; the course record of 124.11mph was set in 2006 when he rode in HM Plant Honda colours and secured his first NW200 class win while the Supersport record of 119.197mph was set by Plater in 2008.

The weather forecast that predicted heavy rain for Saturday has now been withdrawn and the local forecast is hopeful of a dry day on Saturday.

"I hope that is correct," said Plater. Although the unsettled conditions are the same for everyone it is much better for both the riders and spectators if we have a nice dry day.

Roads close at 10am on Saturday with racing set to commence at 11am. All the racing will be streamed live on the BBC website:-

http://www.bbc.co.uk/northernireland/nw200/

with the last three races going out live behind the red button on BBC Northern Ireland.



Race schedule – Race 1 – 250cc 4 laps – 11am; race two – Superbike – 5 laps – 11.45am; race three – Supersport 600 – 5 laps – 12.45pm; race four – 125cc – 4 laps – 1.45pm; race five – Superstock – 5 laps – 3pm; race six – North West 200 Superbike – six laps – 4pm; race seven – Supersport 600 – 5 laps – 5.15pm. All times approximate.